On Feb. 18, diners at an exclusive Italian restaurant on Liverpool's Castle Street were disturbed by cries of joy. The club bosses of Bayern Munich, in town for the following night's Champions League tie with Liverpool, had just received news of Borussia Dortmund's score: 0-0 away to bottom side 1. FC Nurnberg.
The Bayern board's laughter and jubilant shouts showed that they regarded their rivals' meek draw as a big win for themselves. The deficit was now only three points. The championship, all but gone when Dortmund had opened up a nine-point lead before the week before Christmas, was very much back on.
Now, after BVB's surprise 2-1 defeat at Augsburg last week, Lucien Favre's men and Bayern are only separated by a goal difference of two. A stuttering Dortmund, now out of the Champions League, still have to visit the Allianz Arena and Bayern wouldn't be Bayern if that game wasn't already earmarked as a certain win — "It'll be hell for Dortmund," president Uli Hoeness predicted, which explains why they believe they're in the driving seat for the title.
– Honigstein: Low's new Germany comes at a price
The way they see it in Munich, everything is falling into place. Having tried and failed to placate everyone by rotating heavily in the autumn, manager Niko Kovac has settled on a relatively fixed squad. Injuries have helped him narrow his choice and quell dissent, as have the results: nine wins in 10 league games have made it all but impossible for fringe players to complain publicly, veteran right-back Rafinha excepted.
Disappointment over a lack of clear direction has not gone away but seems less of an issue now the team is more settled and balanced, courtesy of in-form Javier Martinez at the heart of midfield. Bayern are increasingly able to find workable solutions in attack, too.
Right on cue, last Saturday's 5-1 demolition of (an admittedly awful) Borussia Monchengladbach was a demonstration of supreme confidence and unprecedented fluidity in attack. Bayern are clearly enjoying the rush that comes from hunting down their prey, step-by-step, week after week, in contrast to the boredom of walking away with it for six successive years. "It's a more emotional season," executive chairman Karl-Heinz Rummenigge said last week.
Germany manager Joachim Low has also unwittingly helped to raise the temperature. His surprising move to end the international careers of Thomas Muller, Jerome Boateng and Mats Hummels this week has hurt the trio's pride and made them even more determined to prove that they've been written off prematurely.
Bayern are still on course for their worst points tally of the decade, but Dortmund allowing them back into the title race with a series of poor results has been met with a typically steely resolve. For the next nine weeks at least, they will pull together to ensure it is they who will be celebrating at a fancy restaurant after the last ball has been kicked.
But in Dortmund, they have nice Italian restaurants too. There's one very close to the Signal Iduna stadium that BVB players love to frequent, and its VIP area could yet witness a party come the last day of the season on May 18.
Despite having their lead chipped away, the club have become a little more optimistic following the 1-0 defeat by Tottenham in Champions League that they can stay the course. "German champions: only BVB," the supporters on the "Yellow Wall" south stand were chanting after the final whistle on Tuesday night. They had seen enough to feel that a terrible run of seven winless games in eight across all competitions was merely a blip.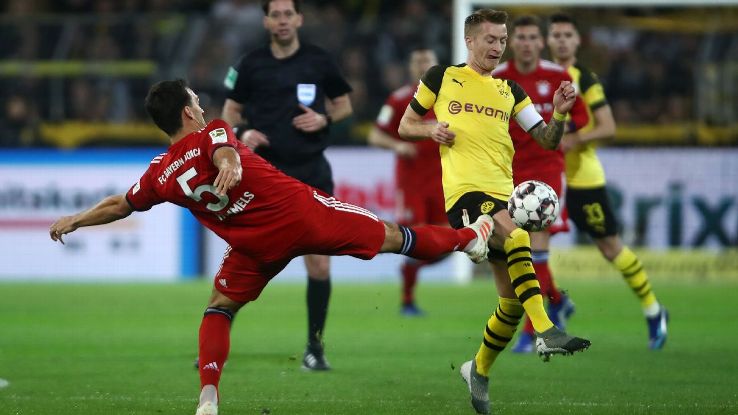 Dortmund had failed to score despite a series of chances against Spurs. That, coupled with some naive defending, has been the story of their second half of the season thus far but the return of talisman Marco Reus, captain and focal point of the side, bodes well for the team, as does the fact that the calibre of chances created has been consistently high.
If they keep creating opportunities as they did against Spurs, they're likely to start scoring again. Favre, one the game's most analytical thinkers, would be far more worried if his men had stopped getting through on goal altogether.
The Swiss manager's idea of football is to cut teams open with a series of patient but incisive passes in the final third. He doesn't believe in forcing the issue with a tall striker and peppering the box with crosses. The downside to such a methodical approach is that it can fail to light the emotional touch paper.
At times over the last few weeks, the young team have almost appeared passive, lost in a passing maze of their own making. In the working class city of Dortmund, such a perceived lack of attitude put noses out of joint. "You have to be at 90 or 95 percent, 60 percent is not enough," BVB icon Matthias Sammer, now an external consultant, chided the team live on television last week. "In games like Augsburg, Dusseldorf or Nurnberg, Borussia don't behave like champions but like an average side."
On Tuesday, by contrast, a more aggressive pressing style and obvious desire to fight for every ball got the crowd back on their side. "The passion and intensity we saw today has to be the benchmark for the Bundesliga as well," sporting director Sebastian Kehl said. The former midfielder was optimistic that a similar commitment to do the less glamorous stuff on the pitch will help Dortmund beat Stuttgart on Saturday.
Kehl was unwilling to admit that the Champions League exit would help his team focus on the title challenge. "We don't know if that's an advantage," he said. But there's little doubt that both Favre's meticulous way of working with his players and his team, hit hard by injuries, can only benefit from extra preparation time — especially if Bayern continue to be involved in Europe.
They will never be caught jumping for joy in public if their southern rivals win against Liverpool but, privately, the Dortmund board have plenty of reasons to cheer on Kovac's men on Wednesday night.