DORTMUND, Germany — A different club, a different league, a different town, a different country. Life, in football and beyond, has changed so much for Jadon Sancho since his move to Borussia Dortmund 20 months ago that it can be a bit a difficult to take it all in.
"If you'd asked me three years ago where I'd be today, I couldn't give you an answer," the 18-year-old told ESPN in a TV studio buried beneath the Signal Iduna Park main stand, with a huge smile on his face.
"I wouldn't have thought it would be here and me doing this well," he said. "[The biggest surprise to me is] just how everything has gone so far. It's gone so quickly. It's all crazy right now."
The Camberwell, London-born winger has become the face of an idea, a shining star for the argument in favour of career-furthering migration. He's the teenage conquistador who has shown his generation of English academy alumni a whole new world of possible progress across the English Channel.
"It's a good feeling, a nice feeling," he said of his pioneering role. "It's a good thing to give other players the opportunities somewhere else and not just at home. Give them a wider vision of what's out there. I'm happy that I've opened doors."
But as more and more Bundesliga clubs are scrambling to sign the best British talent, desperate not to miss out on the next Sancho, the former Manchester City player warned other youngsters stranded in the Premier League's nebulous "upside down" between the reserves and the first squad that going to the German top flight is not necessarily a cure-all.
"They do ask me what it's like, and I tell them truthfully: It's not easy. It's difficult."
Sancho admitted that he "never knew" the Bundesliga was as "tough and physical" as he found it to be after signing for the Black and Yellows in the summer of 2017. "You've got to be very sharp. You just have to be on point," he said.
It took him the better part of his first season before his game — a series of unpredictable dribbles, outrageous playground tricks and lighting runs at defenders — became consistent enough to warrant extended time in the first team.
As recently as last October, when his first-call up to the England squad and starting debut against the U.S. in November brought home the scale of his rapid development, some people at the club felt that his elevation to national level — and all the attention that came with it — might have come a little early. Yet his performances for the German league leaders have become so devastatingly impressive that such fears were quickly allayed. Sancho credits Dortmund coach Lucien Favre's famously obsessive attention to the basics of the game for his noticeable improvement.
"[Favre is] very passionate and keen on the attacking players looking at what they're not good at and making sure they perfect it every day in training," he said. "After training now, I only practice with my left foot — just dribbling, shooting. [Favre says] it doesn't have to come tomorrow, it doesn't have to come in two years. But eventually it will come.
"That's what I like about him. He's very focused on these little things that people don't see."
Another factor that has helped Sancho grow is a rare case of joined-up thinking between club and country, with Dortmund and Gareth Southgate's assistant Steve Holland working closely together behind the scenes. That and Sancho's teammates' increasing trust in him pulling off spectacular moves.
"The reason I have so much fun is [because] the players around me encourage me to do those things. Usually, some players might not like showboating, or whatever people would call it, but I just feel like that is my game. They understand that, and the coach understands that. [They] find it's effective because it does give other players space and opens up opportunities."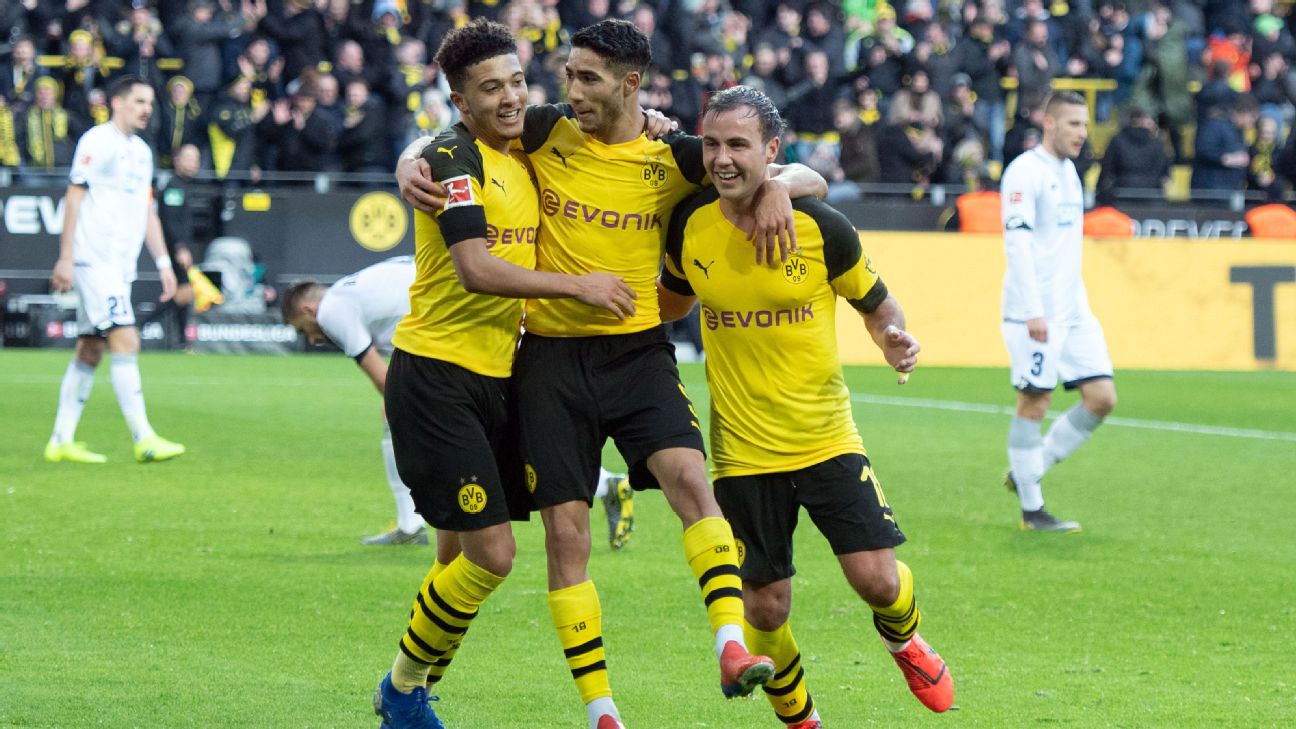 Saturday's eventful 3-3 draw against Hoffenheim — Dortmund led by three goals only to concede three times in the final quarter of an hour — was the perfect illustration. Sancho arguably played his best senior game so far, marking the next stage of his turbo-charged development. He scored a sensational opener, assisted Mario Gotze for Dortmund's second, got heavily involved for Raphael Guerreiro's goal to make it 3-0 and nearly found the net for BVB's fourth after yet another piece of superb, raw skill.
Against Spurs on Wednesday, he is determined to make a similar impact, not least because of some boisterous WhatsApp messages from his Tottenham-based England teammates.
"A lot of 'We'll see you soon' and 'We're going to beat you' — just things like that," he said with a laugh. "Dele [Alli]? He's got the most to say. I just sit back and stay quiet."
Sancho is especially keen to perform well in front of friends and family who will be in attendance.
"You feel you have something more to prove. I know a lot of people — especially a lot of young kids and also England fans — will be coming to the game to see what I'm about."
But there's something different, something bigger at the heart of it all.
Sancho and many members of this new generation of English players, who had to contend with life in underprivileged areas in their youth, are most of all driven by the need to make a positive difference on the people closest to them.
"We just love football," he said. "The people that I've grown up around, they've had the same ambition as me and have had the same background as me. It's tough really because they just want to help their mums and their families just live a better life than what they're living currently back at home.
"I feel like us boys, we'll do anything to make our families proud. I think that's what it is: that desire and motivation to keep on going."