Cristiano Ronaldo's manita gesture went unnoticed on TV in Italy. Subtle and off-camera, the moralising was instead dedicated to Diego Simeone's celebration of the testicular fortitude Atletico showed in opening the scoring at the Wanda Metropolitano. When journalist Gianluca Di Marzio asked Simeone to explain what some adjudged to be inappropriate and disrespectful behaviour toward an Old Lady, the feisty Argentine said: "It wasn't aimed at the Juve fans. It was to say to ours that we have coglioni. Maybe it wasn't a nice thing to do but I felt like it. Anyway, I apologise."
A short while later, Ronaldo was striding through the mixed zone and could have disappeared quietly into the night. Clearly, though, that was not his intention.
"Five Champions," he said, before making a zero with thumb and forefinger. Atleti have none. Ronaldo perhaps learned the move from Jose Mourinho and the three fingers he held up at Juventus fans to indicate Inter's treble — "the toughest moment for them" — after Manchester United won in Turin in November. Ronaldo's ire was as much a consequence of the result as the songs dedicated to him.
If the reception reserved for Ronaldo was to be expected, the meekness of Juventus' performance was not. One imagines Ronaldo wished to make a statement on his return to Madrid for the first time as a player. Instead, this wasn't much better than the visit he paid the Spanish capital a month ago when he agreed to pay a €18.8 million fine in order to settle a tax case.
A week after former club Real Madrid all but booked their place in the quarterfinals with a 2-1 win against Ajax in Amsterdam, losing 2-0 to Atleti can't have been easy for Ronaldo to handle, particularly as the second goal — another set-piece and carbon copy of the first — ended up being deflected in off him. Suffice to say, this isn't the type of difference Juventus bought him to make in this competition.
Of course, it would be wrong to lay all the blame for this defeat at Ronaldo's door. He created the first chance of the game, winning a free-kick and launching a missile of a shot at Jan Oblak, who somehow managed to palm it over the bar. In first-half stoppage time, on the one occasion Mario Mandzukic managed to knock the ball down to him in trademark fashion, Ronaldo hooked his effort over the bar in a crowded penalty area.
The surprising marginalisation of the big Croatian striker, Juventus' most physical player in the most physical Champions League game of the season so far, had an obvious impact on Ronaldo; he needs someone to clear out opponents either through smart movement or brute force. Yet the two of them did not exchange a single pass all night.
Mandzukic's only meaningful involvement was instead to set up his former team's first goal, clearing the ball into the path of Jose Maria Gimenez so he could have a second bite at the cherry while Leonardo Bonucci lay on the ground hoping optimistically for the referee to blow for a foul.
Ronaldo began the second half with a cross that Atleti only cleared as far as the edge of the penalty area. Miralem Pjanic, afflicted by a fever, fluffed the volley — understandable, as it's a hard skill — but after seeing him put a similar half-chance away against Lazio earlier in the season, he could perhaps have done better.
Changing tack after the break, Ronaldo started blasting shots from long range, left and right. It appeared wasteful but as Alessandro Del Piero noted in commentary, when there are no options in front of you nor space to run into, what is there left to do?
As Atleti turned up the volume, Ronaldo went quiet until Federico Bernardeschi replaced Paulo Dybala for the final 15 minutes. The pair combined to almost score an away goal and salvage the tie for Juventus. Stood over another free-kick, Ronaldo elected to play a smart pass across the edge of the penalty area rather than whip in another cross. Atleti had dominated in the air and were not expecting it, but Oblak saved Bernardeschi's effort. The sub also had the right idea in stoppage time when he spotted a run Ronaldo made to the far post. Unfortunately his ball was high and too difficult for CR7 to direct a header on goal.
Make no mistake: the result could have been a lot worse for Juve. In Massimiliano Allegri's words, the second half was "ugly" and probably the worst his team have played since the Champions League final in Cardiff. Seeing a defence as experienced as theirs concede the same goal twice, both from set-pieces, was strange even if six of the last seven goals they have shipped in the Champions League have come from dead-ball situations.
Chiellini felt that these "episodes" decided the game but the defeat did not come down to moments and a blown call here and there. The writing was on the wall in the second half and Atleti deserved their win. Andrea Pirlo and Fabio Capello were unsparing in their criticism, with Juve's approach galling Pirlo in particular. "If you want to go and win the Champions League, you can't play like that," he said, "without a brain, without personality and without any desire to play.
"It seemed to me that Atleti wanted to win and Juve to play around."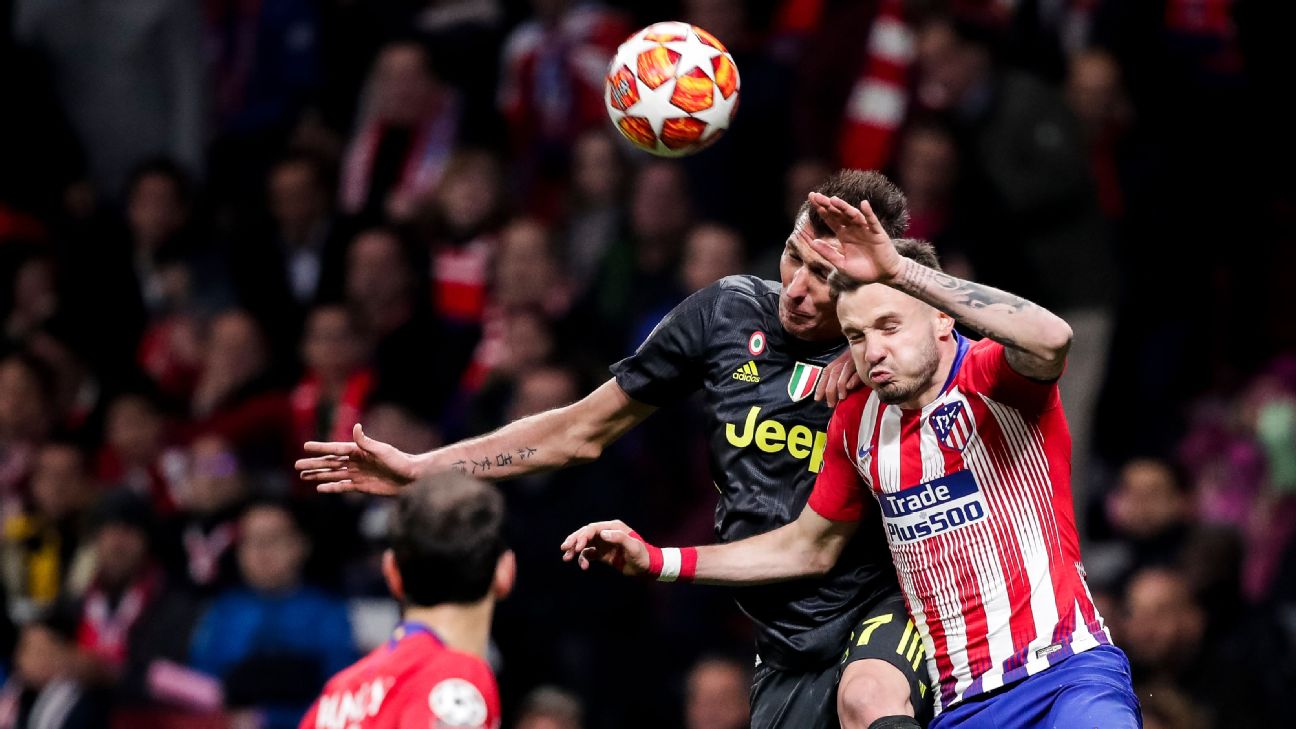 Capello also got the impression that the purpose of Juventus' sterile possession game had the sole aim of "passing the time." Only 151 of the team's 543 passes were forward. Accused of being tentative and attendista, adopting the speculative wait-and-see tactics associated with Italian teams of the past, Pirlo wondered: Where was the courage?
Allegri had said in the build-up that he wanted to score at the Wanda, but Juve were cowed and cautious and questions abounded about Joao Cancelo. For instance, should Allegri have put his concerns about his defending to one side and played the swashbuckling full-back, taking a leaf out of Madrid's book in concluding that the benefit of playing Marcelo is greater than the cost?
One thing's for sure: Juventus need to be better all round in three weeks' time. The success of their season depends on it. Ronaldo was not signed to help them win an eighth league title in a row. Juventus bought him because, as his hand gesture indicates, he has won this competition five times, and that's to say nothing of finishing top scorer seven times and scoring 58 goals in the knock-out stages.
While expectation has been met in Serie A, it's here where Ronaldo must deliver. So far he has been sent off in Valencia, scored just once — recall the ab-stroking wonder goal in the 3-2 defeat to Manchester United — and has lost three of six Champions League games. It would only be two defeats had he not interfered with play from an offside position when Dybala whacked in a beautiful would-be equaliser against Young Boys, only for it to be ruled out because of his attempt to head the ball as it flew into the top corner.
Allegri insists Juventus are "not dead" and anyone who has followed this team over the years knows better than to write them off. The Italian champions very nearly came back from a worst first leg deficit against Real in last year's quarterfinals only for a stoppage time penalty — converted by Ronaldo — to eliminate them.
In short, Juve don't need a miracle. They just need the kind of epic Champions League night Ronaldo was brought to Turin to deliver.