Nicolo Zaniolo spread the play out to Leonardo Spinazzola. The Italy left-back shaped to go right, then drove to the byline before cutting back inside to send a cross to the far post. It was too high for Serie A's top scorer, Fabio Quagliarella, to direct on target; instead, he headed it back across goal and set it, volleyball style, for Moise Kean to glance in from inside the six-yard box.
The aesthetic was tarnished a little by the Liechtenstein goalkeeper managing to get something on it, but it was a lovely team goal all the same, the fifth in a 6-0 win for the Azzurri at the Ennio Tardini.
Seconds before beginning his jerky celebration dance, Kean pointed to Quagliarella and it was at that moment when it suddenly dawned on you. One is practically half the age of the other. Kean turned 19 a month ago; Quagliarella, who became Italy's oldest-ever scorer with a brace in the Liechtenstein qualifier, is 36.
Breaking records at either end of the age spectrum was the theme of Italy's international break. Four days earlier in Udine, Kean had etched his name in history as the youngest-ever player to find the back of the net for the Azzurri in a competitive game, poking home a shot to clinch victory against Finland. Following it up in Parma was unprecedented. No-one Kean's age has scored in back-to-back games for the senior side. No-one, young or old, had done it for Italy in almost two years.
It's hard to imagine 2019 starting any better for Kean. It began with him dumping Bologna out of the cup, then scoring a brace and winning a penalty — which Emre Can was allowed to take — in the 4-0 win against Udinese. The resting Cristiano Ronaldo was pictured in the stands next to Paulo Dybala, enthusiastically mimicking the step-overs Kean pulled off in the run-up to his second goal, clearly impressed by what he'd seen from the teenager.
Ronaldo's injury in Portugal's game against Serbia means Kean is likely to start for Juventus against Empoli — Saturday, 1 p.m. ET, ESPN+ — this weekend and will, probably, keep his place for the next fortnight depending on the severity of the 34-year-old's muscle tear. The chance to train with Ronaldo is why Kean elected to stay at Juventus this season rather than seek another loan spell like the one he had with Hellas Verona last year. "You can only learn next to him. It's impossible not to learn from a champ like that. Every day I watch and learn," Kean told RAI.
And yet Ronaldo's presence, as well as the decision to give Mario Mandzukic a new contract, have blocked Kean's pathway this season. His first league start of the campaign didn't come until March 3, and Milan inquired about the prospect of signing him in January. Ajax have long been admirers, too; Bologna also thought he might keep them up if he joined them on loan. But Giorgio Chiellini and Leonardo Bonucci did not want to see him go. Both pulled him to one side and persuaded him that his development is best served at Juve. The club now needs to extend his contract beyond 2020.
Negotiations can't be allowed to become a distraction, which has, at times, been a concern with players looked after by Raiola. Having said that, the fact it never has at Juventus owes much to the mutual respect between the club and super agent. Kean's focus has to be his football, which isn't always easy when his father, Biorou Jean, who walked out on the family, decided to go on national radio and talk about supporting Matteo Salvini and the two tractors Juventus supposedly owe him for helping Moise do his last deal with the club.
"Tractors? I have no idea what you're talking about," Kean posted on Instagram. "If I am the man I am today it's all thanks to my mother [Isabelle]."
"All Moise has to do is get used to the pressure and let it slide off him," Bonucci says.
While the spotlight fell on Zaniolo for the first half of the campaign, now it's glare is squarely on the kid from Asti's shoulders.
"Yes we Kean" declared the front pages of Il Corriere dello Sport and La Gazzetta in the wake of the Finland win. While predictable, the headline succinctly expressed the optimism around the national team at the moment. Roberto Mancini has handed out 18 debuts in less than a year, many of which have helped usher in a new generation. The decision to call Zaniolo up before he'd even made his first-team debut for Roma and then bring in Sandro Tonali, the Andrea Pirlo lookalike who plays for second division Brescia, has shaken Italian football into placing more faith in emerging talent.
Mancini's inspiration derived not only from his own precocious ways as a footballer but from watching Zaniolo, Tonali and Kean all come within a whisker of winning the Under-19 European Championship last summer. Kean destroyed France in the semis and brought Italy back from the brink in the final, scoring twice in the blink of an eye to cancel out Portugal's two-goal lead and take the game to extra-time where they ultimately lost 4-3.
Mancini was calling the Juventus youngster "predestined" even before he made his first start for Italy. It's a term reserved for only the brightest and best prospects the country produces. Comparisons have inevitably and reductively been made with Mario Balotelli on the basis that Kean is black, plays up front, scores goals, imitated the celebration he did against Germany at Euro 2012 and just so happens to be represented by Mino Raiola. But that's where the parallels end; that much is clear to anyone prepared to delve deeper into their character and how differently they interpret the position.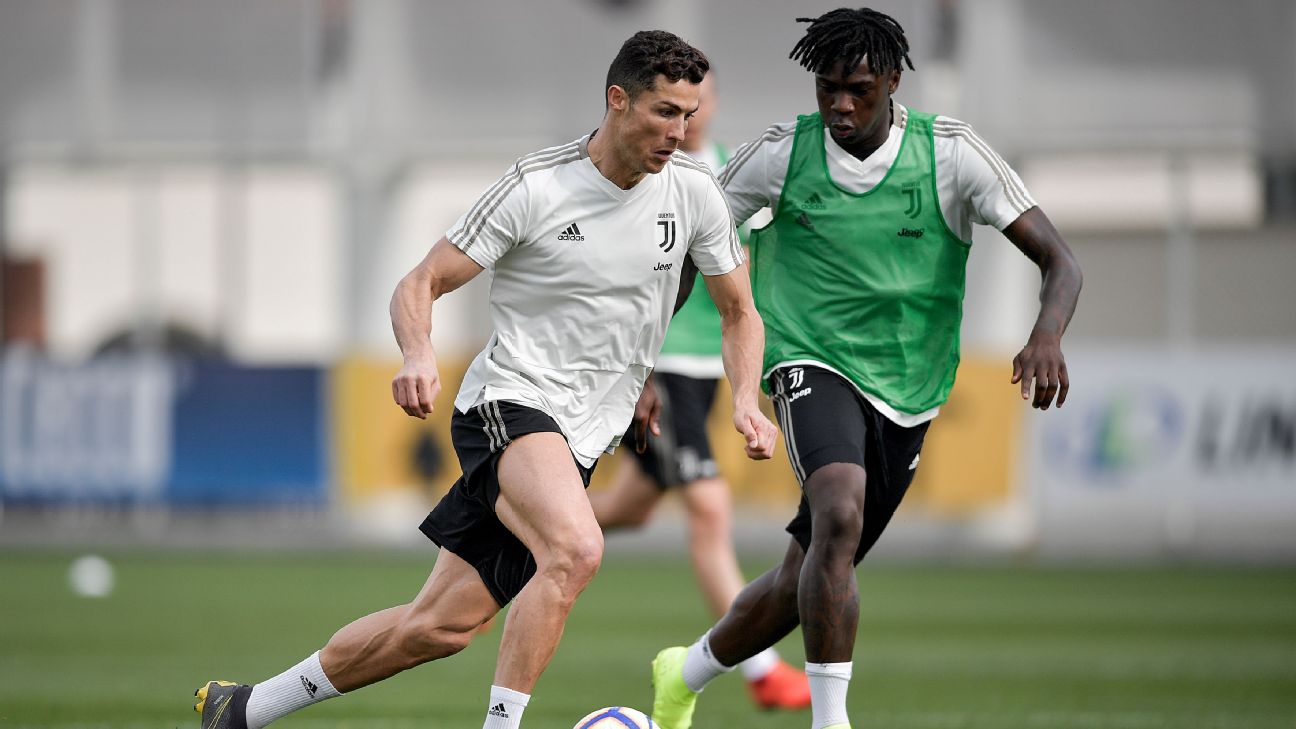 As forwards go, Kean and Balotelli are about as similar as Quagliarella and Ciro Immobile (read: not very). Distinguishing them shouldn't be taken as a knock on Super Mario, either. It merely acknowledges that there are 10 years between them and how the analysis of their playing style needs to be considered and nuanced, not lazy or worse.
Sensing the tone of some of the questions, Mancini also felt it only right to point out that Balotelli is anything but a bad example. It's true that he's arguably not met the great expectations around him but people should never lose sight of the fact that, by any standard, he has had a very good career, winning the treble, firing his country to a major final and setting up the most iconic climax to a Premier League season ever. Still only 28, Mancini will never close the door on Balotelli and talked up the prospect of partnering him with Kean at some point in the future. The two strikers are friends.
"Mario has always given me great advice," Kean said. "He helps me when times are hard and tells me where he went wrong."
It says a lot about Kean that a problem position for Italy now no longer feels like so much of an issue — at least not while we're still in the afterglow of this international break. Part of the reason for that is Kean simply backed up the form he had been showing for his club in limited game-time. Now he has the chance to keep his hot streak on a high flame.
Nothing seems to faze him. He is 19 and scored his first Serie A goal nearly two years ago. He was the first player born after the year 2000 to play in the Champions League. Watching him, it's hard not to feel old and the memories of the time I saw him score for Verona against Milan, beating fellow teenager Gianluigi Donnarumma with a low shot in the corner back in December 2017, is enough to have me reaching for the Just For Men to colour those greying hairs.
"There are still a lot of records to beat," Kean said last week. "And I'm ready to beat them."