Stilicidio is one of the great words in the Italian language. It describes a persistent annoying drip, the plip-plop noise that can cause distraction and irritation. It perhaps explains why the equivalent idiom in Italian for "the straw that breaks the camel's back" is the drop that provokes a vase to topple over and shatter to smithereens.
Inter's decision to strip Mauro Icardi of the captain's armband reached its tipping point on Sunday night when his agent Wanda Nara (who also happens to be his wife) appeared on the couch in her role as a weekly guest on the show Tiki Taka. For the neutral football fan, it's become box office viewing over the past couple of months. The same can't be said if you work for Inter. Wanda is candid and straight-talking, meaning her appearances have been an uncomfortable watch for anyone connected to the club.
"There are no hairs on her tongue," as the Italians say. The truth always comes out and, entertainingly, we've learned how Inter, at least according to Nara, would have shopped Icardi to Juventus in the summer. She has also led audiences to believe that Ivan Perisic's transfer request in January was perhaps down to "personal problems" too, but on Sunday, Nara supposedly went too far.
Amid sustained reports of Icardi agitating for a new contract, she said a better deal wasn't top of her list of priorities for her client; she would settle instead for better service for Mauro. He doesn't want or need an extra €5 million a year. "Five balls" in the box would do the job.
As for Inter's coach, Luciano Spalletti, Nara felt he could have put match-winner Lautaro Martinez on earlier against Parma. After all, Mauro and Lautaro are "friends." There's "no rivalry between them," she says. The club, in her opinion, could also do more to "protect" Icardi from some of the cattiverie ("nastiness") leaking out from "the inside".
With all that in mind, imagine what it must have been like for Icardi when he showed up for training on Monday morning. Imagine walking into that dressing room. Awkward perhaps doesn't do it justice. A report in Thursday's edition of the Gazzetta dello Sport portrayed the 25-year-old as an increasingly isolated figure at Appiano Gentile, "eating practically alone." Il Corriere della Sera went so far as to claim there had been an exchange between Perisic and Icardi in which the Croat had allegedly said "Tell your wife to stop talking about me on TV."
The issue, as Inter see it, isn't that Wanda Nara is Icardi's agent. Nor does the decision to take the armband away derive from on-off talks about a new and improved contract. It's that her comments carry the risk of upsetting the dressing room and also put Icardi, a senior figure, in a difficult position. He has taken to social media over the last month to publicly protect Nara from a strain of criticism that seems unable to overlook her gender and relationship with Icardi. She's been compared with Yoko Ono and "The Woman in White" despite the fact she is no less sensational in speaking up for her client than, say, Mino Raiola.
The root of the problem, therefore, is something else.
Just as Nara feels Inter have not "protected" Icardi, there is also a sense that he's not done enough as a captain to protect his teammates and check the flow of comments that have ultimately undermined his position at the club. The decision to take the armband from Icardi, as Spalletti described it, was "painful" and "very hard" to take.
This is a delicate time for Inter. Third place and Champions League qualification looked all but assured as the team headed into the winter break. Since then, Inter have exited the Coppa Italia and finally recorded their first league win of 2019 only last weekend. If they continue to flatline — starting with Sunday's visit of Icardi's former club, Sampdoria (Sunday 2/17, 12 p.m. ET, ESPN+) — they could quite easily find themselves as low as seventh place in a couple of weeks' time.
Everything, including their hard work over the first half of the season, could be compromised. And yet some fans have welcomed the news that Icardi is no longer captain.
Parts of Inter's support feel he should never have been given the armband in the first place and wanted it withdrawn after reading some explosive passages of his biography in 2016. The fact that news of Samir Handanovic's instalment as Inter's new captain was communicated to the wider world via social media, a medium Nara appears to have mastered when it came to causing a stir, has been interpreted as no small irony. Spalletti's revelation that Icardi was called up to Inter's squad for Thursday's Europa League game against Rapid Vienna, only to stay at home, has hardly helped the player's cause, either.
Since then, Instagram stories of Icardi receiving treatment for inflammation in his right knee and a tweet from Inter confirming as much have added another layer to the affair at a time when questions abound about whether relations between the club and player can be reconciled. Inter's sporting director Pier Ausilio has affirmed the club are still open to negotiating a new contract with Icardi, which, it must be said, isn't at all urgent given his current one runs until 2021.
The question is simple, but crucial: how will Icardi go from being the guy to just one of the guys?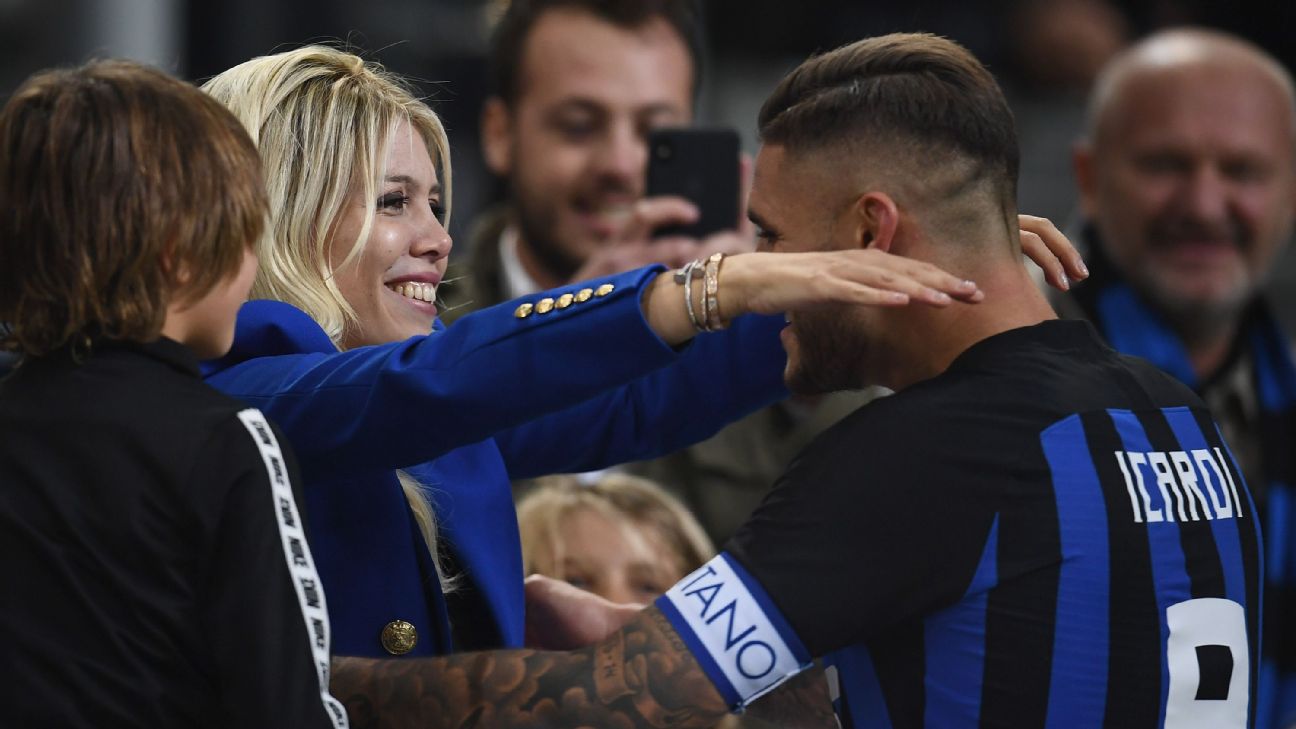 It's clear that he remains Inter's best player. Not only is Icardi the team's most prolific striker and a two-time Capocannoniere (Serie A top scorer), but he's also the club's ninth-top scorer of all-time in all competitions. As such, he should perhaps be better than the seventh-best paid player in the league. That doesn't mean Inter should roll over and pay him €10m a year; the presence of a buy-out clause worth only €110m in his current deal for clubs outside of Serie A explains why they're just as eager to talk as Nara.
That figure seems cheap in today's market, especially for a proven scorer in his prime — Icardi turns 26 on Feb. 19 — and given that Juventus' sporting director Fabio Paratici confirmed plans to sign Icardi were only shelved when they were told Cristiano Ronaldo was available, Inter need to think carefully about what to do next. As much as supporters have welcomed Inter's decision to impose some order and leave the impression no one is bigger than the club, the Nerazzurri find themselves between a rock and a hard place; one is reconciling with Icardi, the other is replacing him.
It's make or break not just between Inter and the player, but for their season as a whole.