Liverpool will welcome a revelation to their squad at the end of the season, a player from the "top shelf" of the transfer market. A 22-year-old considered to be the best midfielder at an established Bundesliga club, an integral figure who has only lost one league game all season.
The Merseysiders' recruitment team knows him well, as do their coaching staff and most of the squad.
His name? Marko Grujic — Jurgen Klopp's first signing as Liverpool manager.
The midfielder, on loan at Hertha Berlin, has become their star performer, with head coach Pal Dardai the president of his fan club. Hertha's hierarchy have already made noises about wanting to extend his stay.
"Of course, it's nice to hear the praise, especially from people at the club because they are with you every day and they rate you — as a player and person," he told ESPN FC.
Grujic has made just 14 appearances for Liverpool since his £5.1 million switch from Red Star Belgrade in 2016. But he will return to Melwood this summer with conviction that he can force his way into the squad if he continues to impress in Germany.
"If I keep performing like I do now, then there are more chances to come back to Liverpool for another season," Grujic says. "I'll return with more experience and better abilities. It depends on what the clubs will decide at the end of the season.
"If Liverpool decide for me the best deal is to go on loan for another season, then I would like to come back to Berlin. I already know the players and staff and I don't need any extra time to adapt to the league or surroundings. It depends — it's too early to say what the next season will hold for me."
Liverpool, for their part, still believe Grujic can be a regular in their first team. Sources have told ESPN FC that the Premier League leaders quickly turned down a loan approach from Torino for Grujic last summer because the Serie A side wanted a €10m option to buy included in the agreement.
When he was recovering from a second untimely ankle injury, Liverpool even arranged for Grujic to continue his rehabilitation at Melwood during the German winter break.
There are also the text messages from Klopp after matches, as well as regular phone calls with Julian Ward, Liverpool's "loan pathways and football partnerships manager."
Ward and sporting director Michael Edwards attended Hertha's 3-2 DFB-Pokal defeat to Bayern Munich earlier this month, using the multi-purpose trip to check on Grujic's progress. Bayern and Hertha meet again on Saturday in the Bundesliga at the Allianz Arena.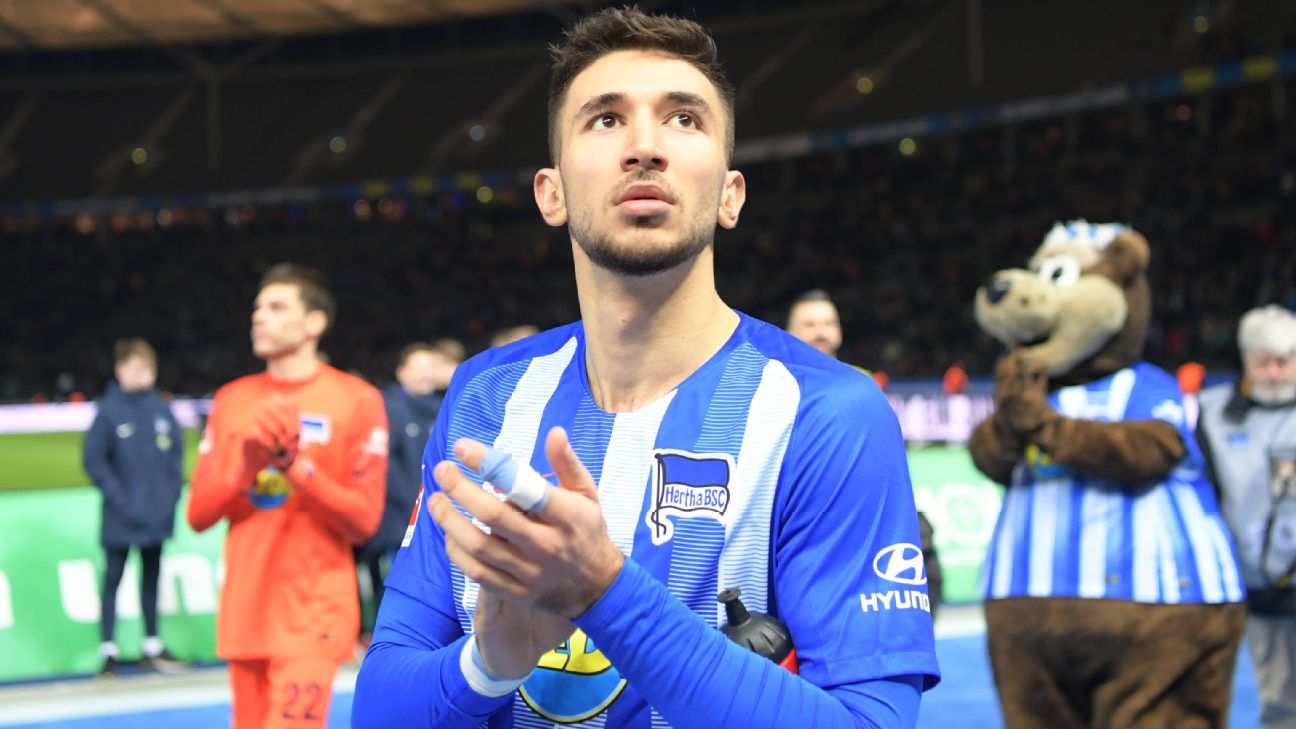 "I think [there is a] plan for the future," the Serbian said of his Liverpool career. "From every chat we had so far, I thought that they really think about me.
"Maybe I was expecting to play a bit more, but so far I'm happy how I improved in that time. Of course, my target was to be a regular player of Liverpool and I'm still thinking I can do that.
"In life, it never comes without any issues or problems. It will come, I'm sure. I'm still young, 22, and the time works for me.
"We have a lot of options in midfield and we will see next season, but competition for places is always good and natural. I'm looking forward.
"We know how Liverpool play with one No. 6 and a double eight and I'm not really bothered about that. I can play both positions. In preseason we will see what is the best for me and for the team."
The lack of action at a major European club was a concern to his family at the time of his transfer to Liverpool. It was reported that Grujic's father, Goran, hid his son's passport to prevent him from making a mistake by moving to Anfield.
"The newspapers made the story a little bit bigger," Grujic clarifies. "It wasn't really like that. My dad was a little bit scared of the size of the club because Liverpool were rocking and Klopp was playing a really intense game. He just said: 'You've just played 20 games in the Serbian SuperLiga, I'm not sure you're ready for that step, to jump into Liverpool.'
"He was a bit paranoid. But then we made a deal together and we are both saying it was good decision.
"I've seen some other guys from England — [Jadon] Sancho, for example — come here [to Germany]. From the intensity of the game, I think the similarities are very close to the Premier League.
"The Premier League has a bit more quality and the clubs spend more for their players. It's more money in England. But the Bundesliga is perfect for young players to get some experiences, get some games."
The desire to take the next steps in his career means Grujic is unable to contribute to a potentially historic Liverpool season, given a first league title in nearly three decades is a possibility. And he admits it was hard for him to watch the club reach the Champions League final in May.
At the time, Grujic was on loan helping Cardiff City achieve promotion from the Championship, but felt he could have played some part in Liverpool's campaign when injuries hit.
"For me in this stage of my career, it means more that I play," Grujic said. "It wouldn't be enough to sit on the bench or in the stands.
"I would love to be part of a historic team, but this [loan at Hertha] will have more benefits. We will see it from next season, hopefully I can jump into the team."