It might not provide the most enthralling technical football of the Champions League round of 16, but there's something wonderfully intriguing about the tie between Atletico Madrid and Juventus, the first leg of which takes place on Wednesday evening.
These are effectively the two nearly-men of the last half-decade in this competition, both defeated finalists twice: Atletico losing to Real Madrid in 2014 and 2016, Juventus falling to Barcelona and Real in 2015 and 2017. But that status, and the sense that both Diego Simeone and Masimilliano Allegri are slightly struggling to complete another evolution of their sides, shouldn't hide the fact that both have punched above their weight in recent seasons, with Atleti turning Spain's big two into a big three, and Juventus turning Serie A into a procession.
Both have achieved their success through disciplined defending, clever tactics — and, in an age where Europe's superclubs are obsessed with playing attractive football, these two place the result above the spectacle.
While Atleti are forced to play more proactively in La Liga, during the Champions League knockout stage they're less concerned with scoring goals, and more concerned with keeping a clean sheet. Against technical-minded opposition, defending deep often works effectively, with Atleti refusing to let anyone break down their deep block. Against Juventus, however, this approach could prove fatal.
Juventus feel like something of a throwback in terms of their penalty box threat. Many top sides no longer offer even one aerial specialist, but Juventus now have two. Cristiano Ronaldo's arrival last summer has allowed Allegri to deploy him in the same side as Mario Mandzukic, which means Juventus are now a fearsome proposition when the ball is out wide.
The trip to Madrid is something special for both players: Ronaldo will doubtless be relentlessly booed as a Real Madrid legend, while Mandzukic had a single season in Atleti's colours before switching to Juve. Even without that connection, they appear the tie's key players.
Juventus rarely field a conventional 4-4-2 system to field both together upfront. Sometimes it's 4-3-1-2, but more often Juve play a hybrid approach that sees Mandzukic acting as a wide midfielder without the ball, before motoring forward to become a second striker, often arriving late at the back post.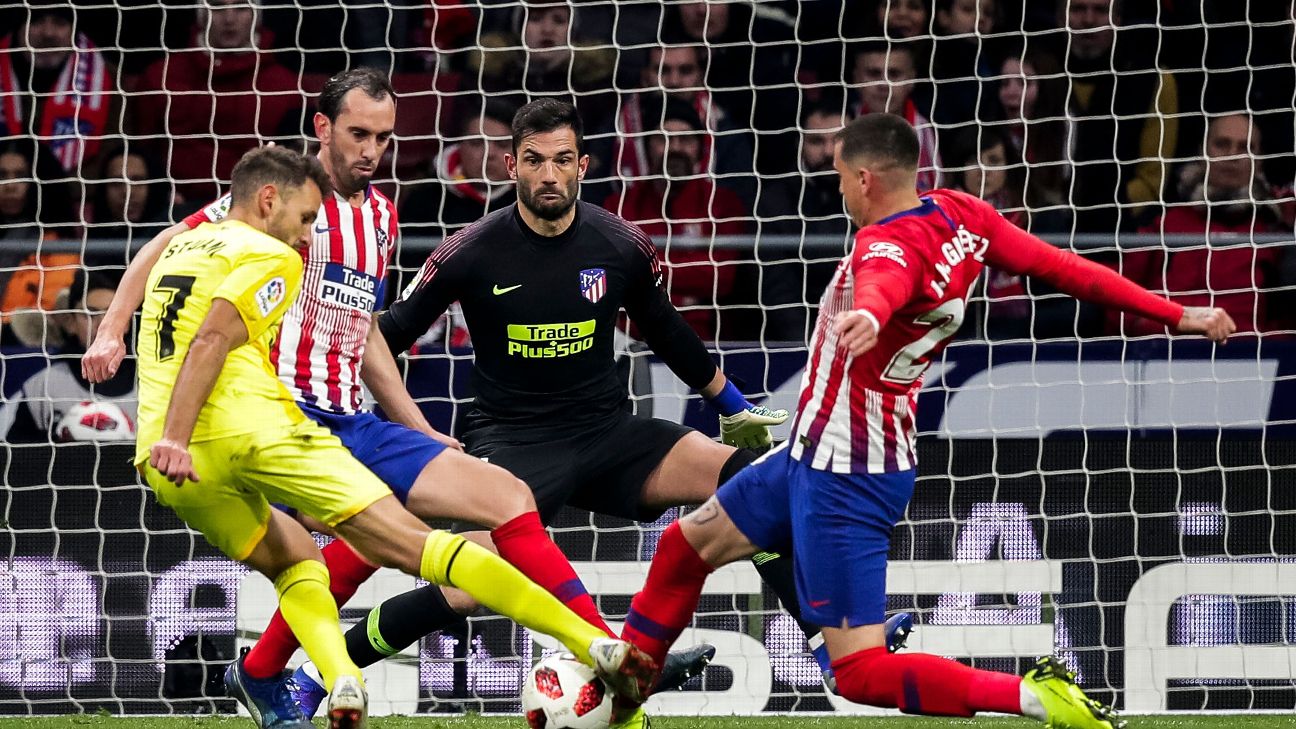 It's something of a role reversal for the duo, over the course of their careers at least. Ronaldo is the former winger, increasingly converted into an outright striker because of his goal return, his physical presence and his declined mobility. Mandzukic is a striker converted into a winger because of his selfless all-round play and his work rate. At the end of last season, Allegri promised he would begin to play Mandzukic in his natural position upfront, but everything changed after Juve completed the surprise signing of Ronaldo.
Together, they form a fine duo — Ronaldo has always needed other players to do his defensive work and running, while Mandzukic is the kind of player who maximises the ability of others — never the star, but so often the centre-forward in a successful side.
Their partnership means Juventus have become absolutely ruthless at scoring from far-post crosses. While Manchester City constantly create chances with balls to the far post, this largely depends upon them getting in behind the opposition and drilling a low ball across the six-yard box. Juve are able to pounce with a more rudimentary approach — a seemingly hopeful cross to the far post, over the majority of the opposition defence, allowing Ronaldo or Mandzukic to isolate the full-back on the far side.
More often than not, it's Mandzukic arriving late. Ronaldo isn't just the more permanent penalty box threat by virtue of his position as the main centre-forward, he's also the attacker opposition defences fear the most, the man they instinctively move towards when Juve are set to launch a cross into the box. That, in turn, opens up space for the Croatian. He's headed the only goal in victories over both Roma and Inter this season in that exact manner, as well as the opening marker in a 2-0 win over Milan. All three are big opponents, and Mandzukic is a big-game player.
In fact, both Juve's forwards are. Ronaldo and Mandzukic are part of an exclusive club — two of only three players to have scored in a European Cup final for two sides: Ronaldo for Manchester United and Real Madrid, Mandzukic for Bayern Munich and Juventus. In an open-looking Champions League knockout stage, and with Ronaldo's track record in this competition, you wouldn't bet against him becoming the first man to score in a European Cup final for a third different club.
First, however, they must get past Atletico. And if there's one side that has been comfortable defending aerial balls over the last half-decade, it's Diego Simeone's. Diego Godin, while no longer the force of old, still excels in the air, and his compatriot Jose Gimenez boasts a tremendous leap.
The aerial ability of the full-backs, however, might prove more crucial. Left-back Filipe Luis is an experienced defender comfortable tucking inside close to his centre-backs, but right-back Santiago Arias is somewhat shorter, more technical, and his aerial success rate of 53 percent this season isn't quite at the level you'd expect for an Atleti player.
Juve are likely to test his aerial ability from the outset, and while other Champions League clashes this week might be about gegenpressing, playing out from the back and possession battles, this fixture might be a little more rudimentary, and more about a target man overpowering the opposition's shortest defender.