Massimiliano Allegri and his staff hosted a video analysis session for Juventus' players after the 2-0 defeat to Atletico Madrid 10 days ago. It didn't last long. A series of instructive clips were cut together and shown rather than a replay of the game in its entirety.
"We'd have fallen asleep if we had [done that]," Allegri said. "Three minutes were enough. Then we moved on."
Moving on from the result is easier said than done, though, particularly when it has compromised Juve's significant Champions League ambitions. Allegri acknowledged that the second half at the Wanda Metropolitano left "scars" and welcomed the 16 days in between the first and second legs. "Replaying [Atleti] immediately would be a mistake," he said. "We'd definitely be knocked out if we were to play the game on Wednesday. We need a bit of time."
Allegri broadly talked in terms of putting Juventus back together again, piece by piece, as if they were some kind of bianconeri Humpty Dumpty and his staff were all the king's horses. "It's like this empty bottle. You need to fill it up a little bit every day to get to March 12 in the best condition."
The language Allegri uses is interesting, although to come away with the idea of Juventus being "empty" and drained by the experience would be to misconstrue his words. What he is advocating instead is a measured, gradual approach ahead of the second leg. Overloading the players with where they went wrong and what they need to do right every day for two weeks would likely overwhelm them and be self-defeating. The pressure and expectation is already heavy enough, which explains why Allegri — in much the same style as the man who'll be down the sideline from him this weekend, Carlo Ancelotti, as Napoli welcome the Serie A champions (Sunday, 2:30 p.m. ET, ESPN+) — is attempting to make Juve's Continassa training ground resemble a decompression chamber.
Judging by last weekend's performance in Bologna, the healing is yet to begin.
Asked to list the positives, the first thing that came to Allegri's mind was telling. "The three points." Little else was salvageable other than Paulo Dybala's match-winning cameo. Juventus's performance was poor, mitigated one supposes by the difficulty rating of a second road game in four days against a side fighting for its life and whose manager, Sinisa Mihajlovic, willed his players to be every bit as aggressive as Atleti's under his old Lazio teammate, Diego Simeone.
Juve allowed nine shots in the first half at the Renato Dall'Ara — a season high — and didn't muster one of their own until the 27th minute. Allegri's experiments with his squad, presumably carried out with a view to changing the line-up for the second leg against Atleti, yielded mixed results.
On the one hand, Federico Bernardeschi's first start in midfield was encouraging enough to make Allegri consider deploying him in the position on a more regular basis. On the other, Joao Cancelo's trial as a winger was disappointing. The Portuguese's timing and understanding of the jobs he needed to do was off and it's clear that in order to be effective, he needs the space that comes with starting from deeper. For now, at least, it seems unlikely Juventus fans will see him there again unless the circumstances are similar to the Lazio game, when he came on for the final 20 minutes with the same brief and ran riot against a tired team that tried and failed to hold onto their lead.
Nevertheless, it was Cancelo's absence in the first leg against Atleti that Allegri's critics jumped on, holding it up as the symbol of a safety-first, overly cautious strategy. Playing Cancelo further up the pitch, far away from his own goal where his defensive shortcomings are laid bare, was an acknowledgement of sorts that, as with the Bernardeschi move, this team needs to be configured in such away that it has as much skill and imagination as possible without causing a costly degree of imbalance.
This week, ahead of the trip to Napoli, the focus has switched to Douglas Costa's fitness. He was Juve's best player in the second half of last season and, in an apparent facsimile of his time at Bayern, a major disappointment in his second year, one that's been disrupted by injury, suspensions, car wrecks and flying out to party with Neymar. Cristiano Ronaldo's swollen right ankle, and the increasing sense he could do with a rest before Atleti show up in Turin, makes Costa's return even more pressing. But pessimism surrounds the Brazilian's chances of being ready in time for Sunday.
In short, Juve's team is bruised as much in body as in mind. Fingers have been pointed at how "un-athletic" Juventus appeared against Atletico, something Allegri dismissed as a misreading of the first leg. Simeone's side, he countered, slow opponents down with their organisation and ratchet up the intensity not in tempo, but in physicality and aggression.
Typically, Juve are a team you'd back in a fight but they were already banged up upon arrival in Madrid. Giorgio Chiellini and Leonardo Bonucci both rushed back from injury to be available for the game, while Miralem Pjanic — "half dead," in Allegri's words — has found breathing difficult amid an ongoing bout of flu. Blaise Matuidi and Mario Mandzukic are the team's second- and fourth-most used players despite a short preseason due to reaching the World Cup final; the timing and location of the Super Cup in Saudi Arabia was a further inconvenience, disrupting their ability to recharge over the winter break.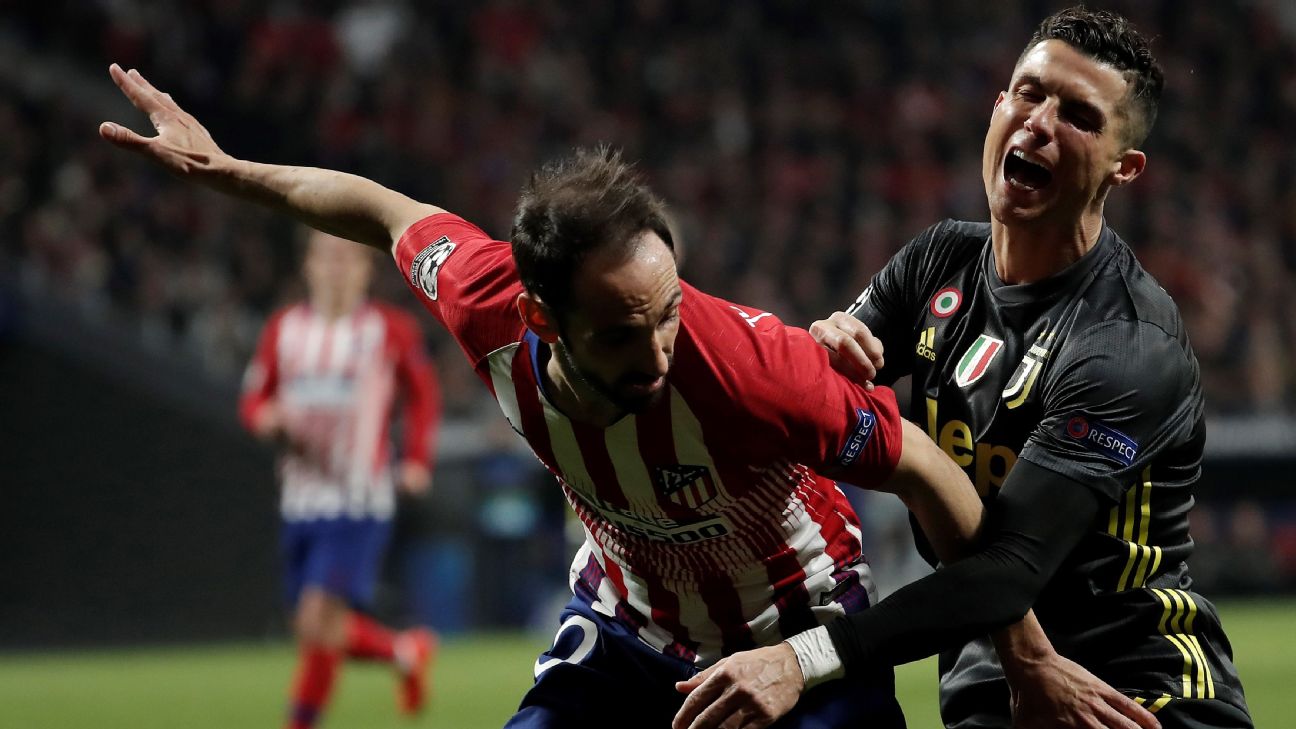 The human element of a team portrayed as invincible in Italy appears to have been lost in a lot of the analysis. It's often forgotten that Emre Can and Cancelo have undergone surgery in-season, Juan Cuadrado, a major game-changer for Allegri, is rehabbing following a knee operation and Sami Khedira is taking time out after a heart problem was detected on the eve of the Atleti game. Unwillingness by fans and critics to consider these omissions and how the consequent disruption affects Allegri's options, to say nothing of their impact on how well the team is able to express itself, has left the coach jaded.
Last week, Allegri warned: "The moment I stop having fun is the moment I'll quit. That's just who I am." Coaching Juventus doesn't feel as much fun as it should be right now. The team is 13 points clear at the top of the table and looks set to break a series of records but just as Antonio Conte discovered in the year he guided Juventus to more than 100 points, it's no longer enough for the fans or the media. The lack of appreciation for how difficult it is to come back and win the league every year, keeping this remarkable run of success going, prickles Allegri greatly. Juventus fans need to be careful what they wish for.
Allegri's decision to deactivate his social media accounts this week and suspend his summer football camp in Livorno certainly drew a lot of attention as well. Juventus sporting director Fabio Paratici is "utterly convinced Allegri will remain with us irrespective of the result in the Champions League" but much will depend on the serial winner's frame of mind. Given the uncertainty, talk of Zinedine Zidane and a prospective return to Turin is starting to loom a little larger.
While Allegri remains optimistic that Juventus can overturn the 2-0 defeat to Atleti and the awareness prevails that it's the strongest team the club has built (on paper, at least) over the course of this eight-year cycle, there's a strange, slightly sombre and dissatisfied vibe around the Old Lady at the moment. Maybe it'll pass. But in order for that to happen, Allegri and the team knows they have to get past Atleti.