Argentina had never lost a World Cup qualifier at home until Colombia inflicted an extraordinary 5-0 defeat on them in Buenos Aires back in 1993.
At the time this was seen as a case of patricide. Argentina was the footballing father of Colombia. Argentine players did much to get the Colombian professional game up and running. Argentine coaches were given pride of place.
That Colombia side was coached by a Colombian, Francisco Maturana, who did much to put his country's football on the global map, at both club and national team level. In his wake, Colombia usually went for homegrown coaches to take charge of their national team — until they missed out on three consecutive World Cups. Then they returned to the default position. Jose Pekerman, a former Argentina coach, took them to the last two World Cups, and they made their quarterfinal debut in 2014.
But after he stood down, Colombia have chosen a new direction. Rather than a local, or another Argentine, they have gone for Carlos Queiroz, an African-born Portuguese, to be the next coach. Queiroz has a wealth of global experience. He made his name with Portugal's youth sides. He has been in charge of Real Madrid, was a successful assistant at Manchester United and took Portugal to the World Cup. He has worked in the United States, been in charge of South Africa and has worked extensively in Asia, taking Iran to 2014 and 2018.
He is an adaptable pragmatist. Colombia have gone for an experienced chameleon rather than someone with a fixed idea of play. It is an intriguing choice, and it will be fascinating to see how Queiroz approaches the job. Of those South American nations who have not won the World Cup, Colombia would seem to have the best chance of doing so. The potential is immense. How will Queiroz go about developing it?
He will surely be glued to Bayern Munich vs. Liverpool in the Champions League on Tuesday. Because one of his most important decisions will concern James Rodriguez, and where on the field his undoubted talents should be best employed.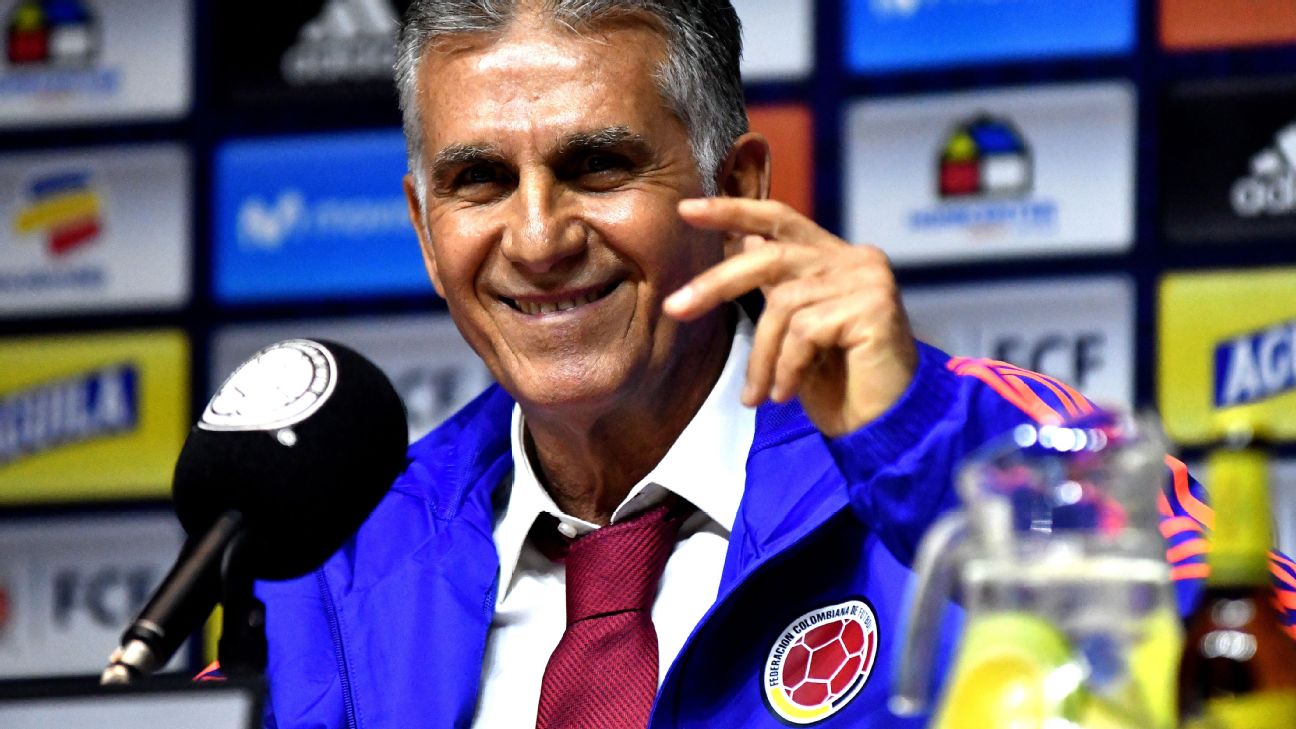 Rodriguez was the big star of Brazil 2014. After the tournament, just turned 23, he signed for Real Madrid and appeared to have genuine greatness ahead of him. It is fair to say that things have not gone as he would have wished. His time at Real was hardly a glowing success and they allowed him to move on loan to Bayern, who are unlikely to exercise their option to buy.
Back in 2014, some predicted that he might have problems. Rodriguez is not blessed with electric pace and this has proved less of a problem with the Colombian national team, where he is the undisputed king of the castle. He cans start off in a wide role as part of an attacking trio, but has licence to roam in search of space, from where his magnificent left foot can do some serious damage. But in a star-studded side of a contemporary European giant, his role is more restricted, and his lack of speed becomes a problem.
Last year, under Jupp Heynckes, Bayern hit upon an interesting solution; start him deeper. He was often part of a central midfield trio, working up and back and using his reading of the game to burst forward and find space at opportune moments. This season, though, Nico Kovac has tweaked the system, often playing two men in the first midfield line, and Rodriguez has been frustrated once more. But with Thomas Muller suspended for both legs against Liverpool, the door is suddenly open for Rodriguez to play in his preferred No. 10 position, right behind the central striker.
Queiroz will surely be watching closely. He will recall that Colombia's 3-0 win over Poland was one of the outstanding performances of last year's World Cup. It was the only time they had a fit Rodriguez in harness with the resurgent Juan Fernando Quintero, another left- footed magician not blessed with extreme pace.
Can the new coach find a way to complement this talented pair by surrounding them with speed? Where might be the zone of the field where Rodriguez can be most effective? Perhaps the Liverpool game can offer some clues — and maybe Colombia's 2026 World Cup challenge gets underway at Anfield on Tuesday night.