BARCELONA, Spain — There's a joke among local residents in Castelldefels, a town squashed between the sea and the mountains outside of Barcelona, that Philippe Coutinho's home is a jinx.
Cesc Fabregas bought it months before being sold to Chelsea. Thomas Vermaelen's stay there coincided with lengthy spells on the sideline with injuries. Andre Gomes then moved in after joining Barcelona from Valencia for nearly €40 million but the Portuguese midfielder never found his feet at Camp Nou, admitting that he struggled to deal with the criticism his performances garnered from supporters.
Coutinho was the €160m man destined to lift the curse. Luis Suarez, his former teammate at Liverpool, helped him find the house and it was supposed to spell the beginning of a new attacking trident: Coutinho would not only be teammates with Suarez and Lionel Messi on the pitch, but he'd be neighbours with them off of it.
Fifteen months have passed since Coutinho became Barca's record signing, though, and it looks like there may be something to this apparent "curse."
The Brazilian, brought in to replace Neymar in the short-term and Andres Iniesta in the long-term, finds himself so far unable to live up to the expectations his price tag brings. There was an encouraging start, with 10 goals in 22 games last season, but things have gradually deteriorated in the current campaign. So far, he has just nine goals in over 40 appearances and sources have told ESPN FC that Barca would be open to selling him should they receive a bid upward of €100m this summer.
"It's incredible that a Brazilian is struggling in a place like Barcelona, where there are 300 days of sun each year, while he was superb in Liverpool, where it rains for 300 days of the year," a source close to the player told ESPN FC.
So how did this situation with so much potential and promise go so poorly so quickly?
A superstar without a position
The first issue consuming Coutinho upon his arrival in January 2018 was a simple one: Where should he play?
Given his versatility — he had played at the tip of a midfield three for Liverpool but usually operated on the left, while for Brazil he either plays centrally or on the right to accommodate Neymar — Barca coach Ernesto Valverde deployed Coutinho in a range of positions last season as he adapted to his new surroundings. This season, with Iniesta now in Japan, he moved permanently into midfield, or, at least, that was the plan.
After just a handful of games and a shock loss to Leganes in September, Valverde deemed that Coutinho in midfield was a luxury when he had Messi, Suarez and Ousmane Dembele ahead of him. One of the quartet had to go, so Dembele — temporarily, as it turned out — lost his place in the team. When challenged by the media, Valverde has always maintained publicly that there is room for Dembele and Coutinho in the same side, but his actions have spoken louder than his words. They've both started in just one of Barca's 12 league games in 2019 so far and that was only because Messi was rested.
So Coutinho moved to the left wing and Barca's fortunes improved. They went on a nine-game unbeaten run, which included wins against Tottenham and Real Madrid; Coutinho scored the opening goal in both matches. Then he got injured in a Champions League match away against Inter at the beginning of November, when he was arguably his side's best player, and nothing has been the same since.
Given an extended run of first-team matches, Dembele proved himself essential to the team. In the span between Coutinho's injury and Christmas, he scored four goals and set up three more in seven appearances; Dembele's pace and unpredictability became one of Barca's biggest weapons. The rise of the French forward, coupled with Coutinho's untimely injury, saw the ex-Liverpool man lose his place in the side. He came back in as a starter against Villarreal at the beginning of December when Suarez was injured, but was dropped the next week and remained on the bench for four successive league games.
"It's normal, what he's going through," Robert Fernandez, who was Barca's sporting director when Coutinho was signed, told ESPN FC. "He's one of the best footballers in the world, but there's just one thing holding him back, something which would have the same effect on anyone: If you don't play regularly, you begin to despair. Do you think if Messi wasn't playing as much as he wanted, he wouldn't lose heart? All footballers want the same thing. Coutinho is an exceptional baller."
As far as Fernandez is concerned, Coutinho is being used out of position.
"He's playing on [the left of the] attack, but he plays through the middle without any problems," Fernandez continued. "He plays and he creates the play, but for Barca to maintain their 4-3-3 formation, he has to play wider. And, of course, he suffers out there. Little by little, he must have lost confidence and without that you're no one on the pitch, no matter what your name is."
Confidence is the key word. When Coutinho first arrived in Spain, he would think nothing of cutting in from the left and bending a trademark shot toward the top corner. After all, he routinely produced big goals for Liverpool in big moments, notably a winner against Manchester City during the 2013-14 Premier League title race and a classy chip against Manchester United in the Europa League in 2016. Now, though, you can see the doubt.
"I think the mistake often made is people treat players as performance tools rather than people," Michael Caulfield, a sports psychologist who works with Premier League players at consultancy Sporting Edge, told ESPN FC. "They are still living, breathing, emotional human beings. They're not a robot. Despite the huge rewards on offer, I've yet to meet many human beings who haven't suffered, at some point in their life, an element of doubt. A price tag can add to [those doubts].
"The guardian angel of performance is confidence. If you're lacking that, no matter how good you are, how fit you are or how well paid you are, the guardian angel that looks after you is confidence. And that dips.
"It comes and goes with most people. You can take the outliers out, Messi and [Cristiano] Ronaldo, but for most people confidence is a huge factor and when you're not fit, not playing or being played out of position, your confidence is affected. And that's what looks after you: a guardian angel of performance."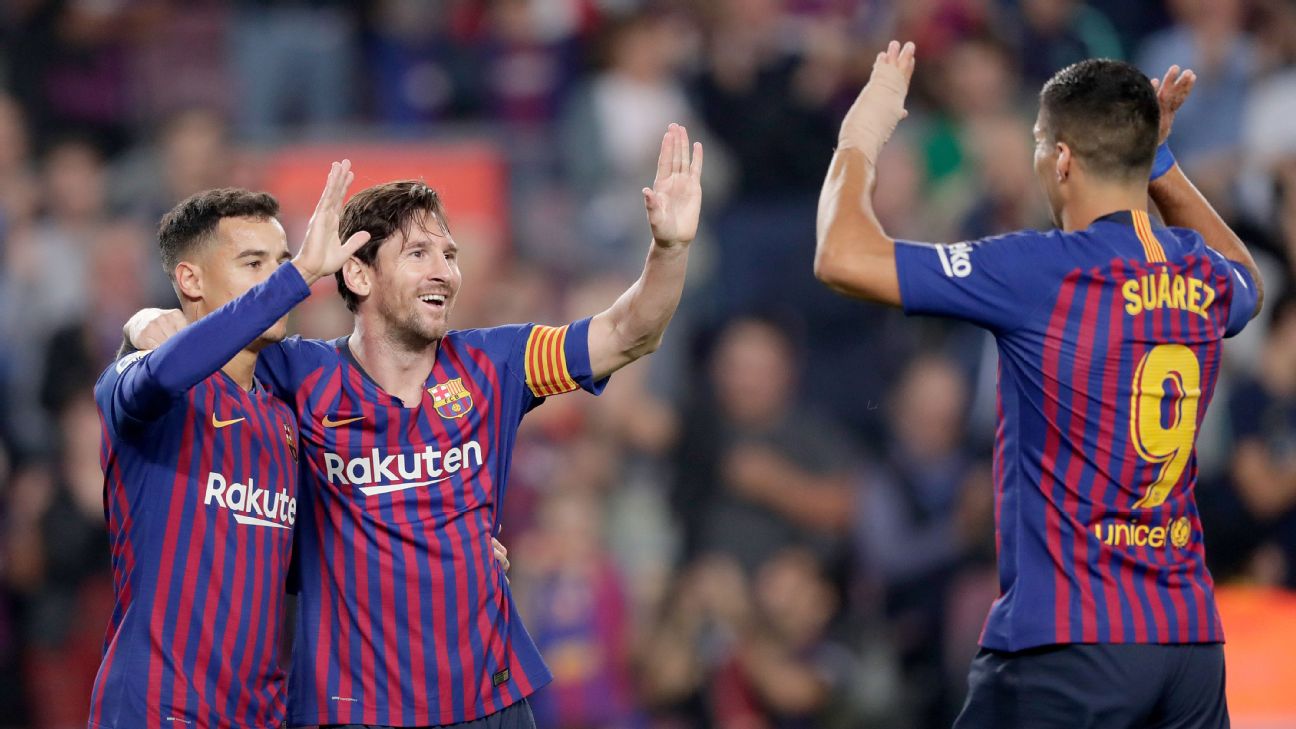 Coutinho's confidence has likely been affected in a number of ways: the record transfer fee, his continual shuffle around the pitch, getting injured, being dropped and then, ultimately, losing his form, leading to questions being asked of his role at the club. It won't have been helped by a remark made by Valverde's assistant, Jon Aspiazu, in January, either. The coach said in a television interview before a game that Dembele had overtaken him in the pecking order.
"I don't think those comments did Coutinho any good, who before being injured against Inter in the Champions League was playing really well," Fernandez said.
Caulfield explains that the toughest times for footballers going through a bad spell can be those long hours between training and games. "That's when you can have too much time to think," he said. "So training and playing can often be the easiest part. It's the lengthy part in between which needs conquering."
Barca teammates, strong support system still believe in him
Coutinho has plenty of support off the pitch as he tries to find form, as he's surrounded by friends and family. He lives with his partner and two children and, a few weeks ago, a large group of family members turned up to visit him in Castelldefels. It was a little detail but one that helped during a difficult time.
Coutinho has the backing of his coach and teammates, too, despite occasionally cutting a dejected figure. Valverde adores him. He gives Coutinho repeated opportunities to regain his confidence.
"The mister really believes in him," a source at the club told ESPN FC. "[Coutinho] regularly produces moments of top quality in training and all his teammates believe in him. He works hard but when something doesn't come off you can sometimes tell that he's suffering a little bit."
The trident with Messi and Suarez — the three used to share lifts to games when Coutinho first signed — has not quite blossomed into the relationship enjoyed by Messi, Suarez and Neymar in the past, but Coutinho has found solace elsewhere in the squad. He's close with the other Brazilians at the club and also with fellow Portuguese speaker Nelson Semedo.
"Malcom and Arthur [Melo] never leave him alone and Semedo often joins in with that gang as well," the source added. "They regularly go to Rafinha's restaurant by the port in Barcelona. There they can reminisce about things from Brazil."
Barca's "Brazucas" are often joined by Juan Vasconcellos, too. Vasconcellos has been described as Coutinho's shadow and regularly travels with him — especially at low moments. Coutinho pleaded with him to join him at a recent Brazil get-together in Porto after he'd said he wasn't going to go.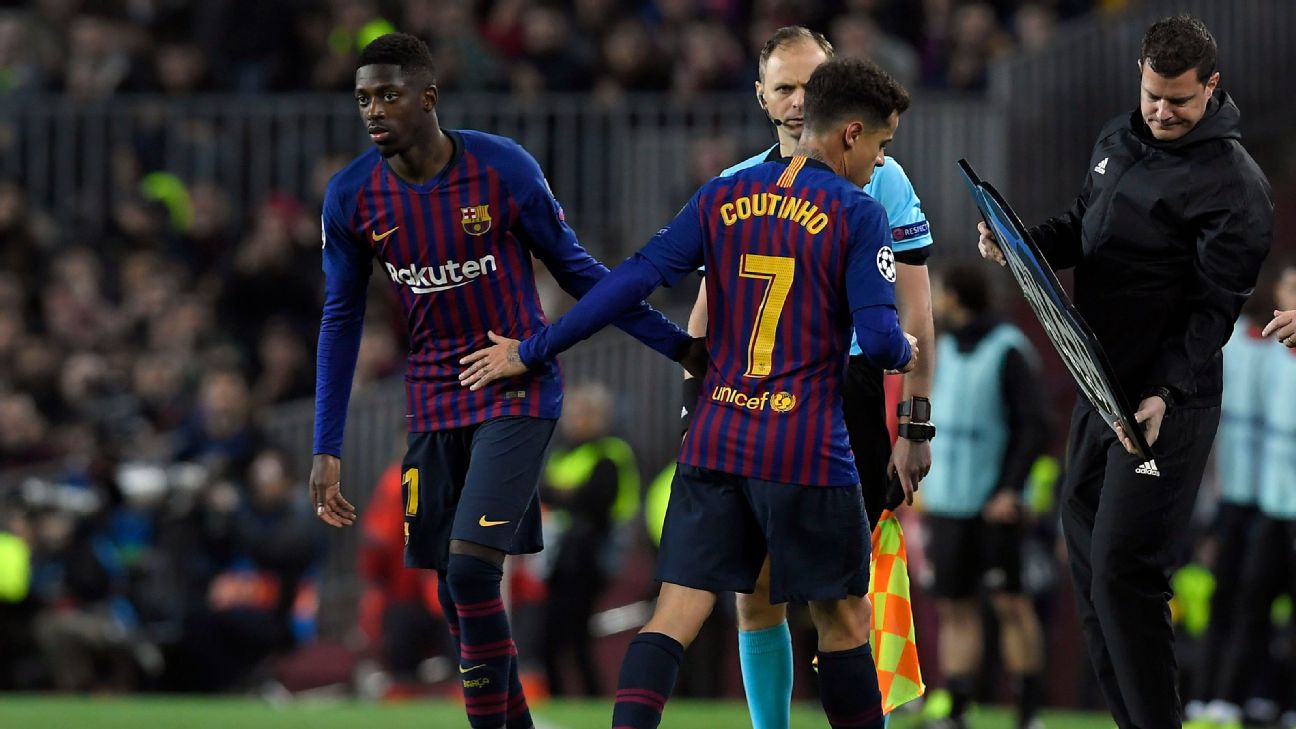 But for all the support, encouragement and opportunities he's getting, Coutinho's form is not improving. He's scored just once in his last 10 games and hasn't set up a single goal over that span. In Saturday's 2-0 Catalan derby win against Espanyol, he was once again substituted in the second half. He hasn't completed 90 minutes for his club since the end of January.
Is there a way out of the rut?
"Your insurance policy is being committed to training and preparation," Caulfield added. "If you keep that up, that will eventually get you through that horrible period. But if you compromise on the preparation, training, effort and commitment, that will further erode your confidence, because when you get your chance, you're then not ready to play. My advice is to do more of the basics, not less. Everyone looks for a secret solution. There isn't one. Do the basics even better than you did before and you have a chance."
The concern for Coutinho is that even the basics may not save what he described as a dream move last January. He would love to stay but Barca, as revealed by ESPN FC, are courting interest and it's no secret that the club will probably have to sell at least one big earner this summer.
With the arrival of Frenkie de Jong from Ajax for €75m in the summer and the game's biggest wage bill, Barca — who don't count on a billionaire benefactor — will have to sell this summer if they want to execute some of their other transfer plans. They remain interested in Ajax defender Matthijs de Ligt and want a long-term replacement for Suarez. Antoine Griezmann's name is even back in the frame for a summer move despite his high-profile "decision" to remain at Atletico last year.
Dembele is currently injured but should be back in time for the Champions League quarterfinal against Manchester United this month. And even if he is not fit — as we saw against Real Betis, when Arturo Vidal was selected ahead of Coutinho — Coutinho isn't guaranteed to start the biggest games as Barca compete for a treble in the final phase of the season. A club record signing, the world's third most expensive player, should not be reduced to such a minor role.
"Saying yes to Barca is very easy," Coutinho said after joining the club. Sticking around is proving a bit harder.