Real Madrid and Manchester United have been confirmed as part of a selection of teams competing at this summer's International Champions Cup, live across ESPN platforms.
This year's tournament, the seventh edition of the trophy, will host 12 clubs playing 18 matches across the United States, Europe and Asia. Tottenham are the defending champions.
The 2019 competition will host U.S.-based matches in New York, New Jersey, Los Angeles, Washington D.C., Chicago, Charlotte, Santa Clara, Houston, Arlington, Kansas City and Boston. Cardiff, London, Stockholm, Singapore and Shanghai will serve as hosts for the Europe and Asia matches.
"What began as a simple idea is now a fixture on the soccer calendar," Relevent Sports Group Executive Chairman Charlie Stillitano said. "We were contacted by dozens of clubs wanting to be part of the ICC, recognising the value of starting their season playing top competition in front of tens of thousands of passionate fans."
Joining Madrid, United and Tottenham are Arsenal, Roma, Juventus, AC Milan, Inter, Atletico Madrid, Bayern Munich, Benfica and Chivas Guadalajara.
Real's clash with Atletico on July 26 in MetLife Stadium will be the the Madrid derby outside of Europe. Other highlights include Real Madrid vs. Arsenal, Tottenham vs. Manchester United, Bayern Munich vs. AC Milan and Juventus vs. Inter.
RSG announced the fixtures at a launch event in New York City on Wednesday.
CEO Daniel Sillman said: "We couldn't be more excited about today's announcement, unveiling a tournament schedule on par with any on the world stage in a setting that is truly unique. This year's launch event is as much for the die-hard soccer fans as it is for those who celebrate the rich history and culture surrounding the game."
The format remains the same, with each team playing three matches and the club with the most points at the end of the tournament lifting the trophy. Matches that end in a draw go straight to penalties with the winner receiving two points and the loser one. 
Spurs' match with United in Shanghai on July 25 is set to have even more intrigue given the managerial situation at both clubs. While Ole Gunnar Solskjaer has made a case to be named United's manager permanently, Spurs boss Mauricio Pochettino remains in contention for the role at Old Trafford.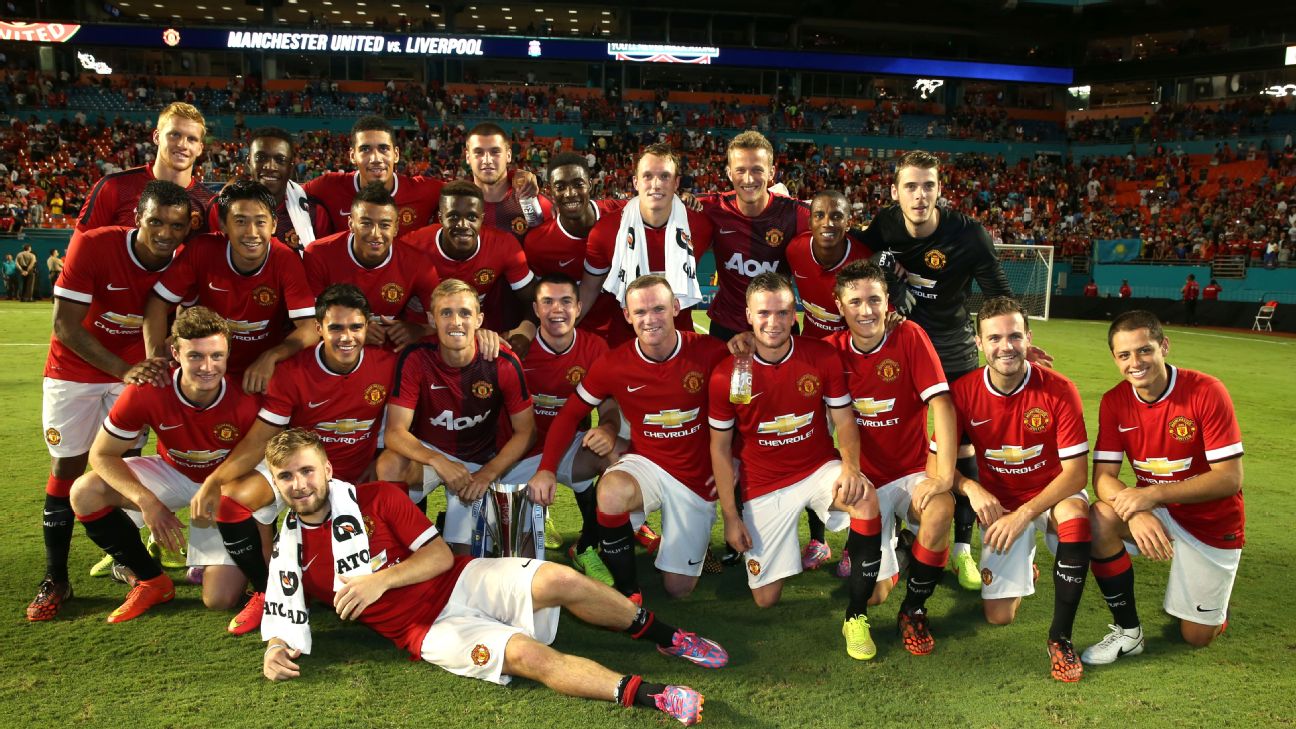 Full International Champions Cup schedule
Tuesday, July 16
Roma vs. Chivas Guadalajara — Chicago, SeatGeek Stadium
Wednesday, July 17
Arsenal vs. Bayern Munich — Los Angeles, Dignity Health Sports Park
Saturday, July 20
Manchester United vs. Inter — Singapore, National Stadium
Arsenal vs. Roma — Charlotte, Bank of America Stadium
Bayern Munich vs. Real Madrid — Houston, NRG Stadium
Benfica vs. Chivas Guadalajara — Bay Area, Levi's Stadium
Sunday, July 21
Juventus vs. Tottenham Hotspur — Singapore, National Stadium
Tuesday, July 23
Real Madrid vs. Arsenal — Washington, D.C, FedExField
Bayern Munich vs. AC Milan — Kansas City, Arrowhead Stadium
Chivas Guadalajara vs. Atletico Madrid — Arlington, Texas, Globe Life Park in Arlington
Wednesday, July 24
Juventus vs. Inter — China, Location TBD
Roma vs. Benfica — Tri-State Area, Red Bull Arena
Thursday, July 25
Tottenham vs. Manchester United — Shanghai, Hongkou Football Stadium
Friday, July 26
Real Madrid vs. Atletico Madrid — Tri-State Area, MetLife Stadium
Sunday, July 28
AC Milan vs. Benfica — Boston, Gillette Stadium
Saturday, Aug. 3
Manchester United vs. AC Milan — Cardiff, Principality Stadium
Sunday, Aug. 4
Tottenham vs. Inter — London, Tottenham Hotspur Stadium
Saturday, Aug. 10
Atletico Madrid vs. Juventus — Stockholm, Friends Arena