If Santi Solari has any sense, this should be the message he'll give his players just before they stride out to try to beat Barcelona in a Bernabeu Liga, Copa del Rey or Champions League Clasico for just the third time in a decade: "Go for the throat right from the start!"
Across those 10 seasons, Barcelona have gone to the heart of their historic enemies' citadel and won nine times, drawing twice. It's the most remarkable decade in the 90 years of their rivalry. But for Madrid to buck that trend, reach the Copa final and turn the fledgling hope of their first-leg 1-1 draw in the Camp Nou into victory, there are clues for Solari, Ramos, Vinicius, Benzema & Co.
Barcelona's preparation for this tie, preceding another Clasico in the league on Saturday, one that should determine Madrid's future in the title chase, was nothing short of spectacular. You'll wait many years, travel many miles and spend thousands on match tickets before you'll see a better, more thrilling, more theatrical or more spectacular second half than Sevilla losing to Leo Messi's 50th career hat trick last weekend. But Madrid's interim coach and all of his video analysis team will have spotted a flaw in Barcelona's armour.
Over their past six matches in all three competitions, Barca have tended to start their performances like an old man with a bad back on a wet Wednesday in January.
Against Valencia, they were 2-0 down at home after half an hour. Against Madrid in the cup, they were 1-0 down after six minutes thanks to pretty horrible defending by both full-backs. Against Athletic Club, Lyon and Sevilla, they were either trailing to an early goal (Saturday) or conceding a flood of chances, and if body language is anything to go by, Ernesto Valverde's players were collectively saying, "Hold on… HOLD ON! Won't you slow down a bit, please?"
Think of Marc-Andre ter Stegen's top-corner save to deny Markel Susaeta, an even better one to stop Martin Terrier's in Lyon that went on to hit the bar, how Raul Garcia nearly scored with an overhead kick in San Mames or Quincy Promes' missing the target right in front of goal in the opening moments at the Nervion.
Across those matches, Barcelona didn't lose once; they either clawed back to draw, kept a clean sheet or turned a losing position into victory. The message to Madrid is crystal clear: put them on the rack, don't let up the pressure, bury your chances and kill the game in the first 20 minutes. Or you'll pay.
But can Madrid pull it off?
In principal, this is the key game that should matter least to Barca, if they had to choose. Winning the Liga Clasico on Saturday will conclusively erase Madrid from that contest. It would be a massive boon if Barcelona can achieve it. Even given the points gap, a Barca defeat at the Bernabeu just keeps the terrifying thought of Solari's team hunting them down alive long enough to prey on the subconscious of some around Camp Nou.
That game is more important than this one — at least you'd think so, right?
Also, they have to consider the return leg against Lyon. Let nobody kid you: Messi set the tone in August when, speechifying as captain, he said his top objective was to bring back the "beautiful trophy from that historic competition" to the Barcelona fans. They don't desire the Champions League — they crave it. They need it. They hate that they've been mere spectators while Madrid have totted up a historic four wins in the past five competitions. That hurts the Blaugrana psyche more than words can capture.
A 0-0 draw away to Lyon was commendable in the circumstances: an extended streak since 2016 of not winning and mainly losing Champions League knockout ties away from home, moderate domestic form and against a Ligue 1 side that has been capable, this season, of beating both Manchester City and PSG. But listen closely to Valverde. He immediately called that a "dangerous scoreline" to take to the home leg. And it is.
Barcelona vs. Lyon from a standing start? Barca are favourites, yes, but the threat of an away goal is significant. Will Barca be nervous? For sure. The need for Messi to stay fully fit and on form is also of primeval importance.
That match, in a couple of weeks, is significantly more important to Barcelona than this midweek cup game. But that said, now is the time to consider the braking distance of an articulated truck.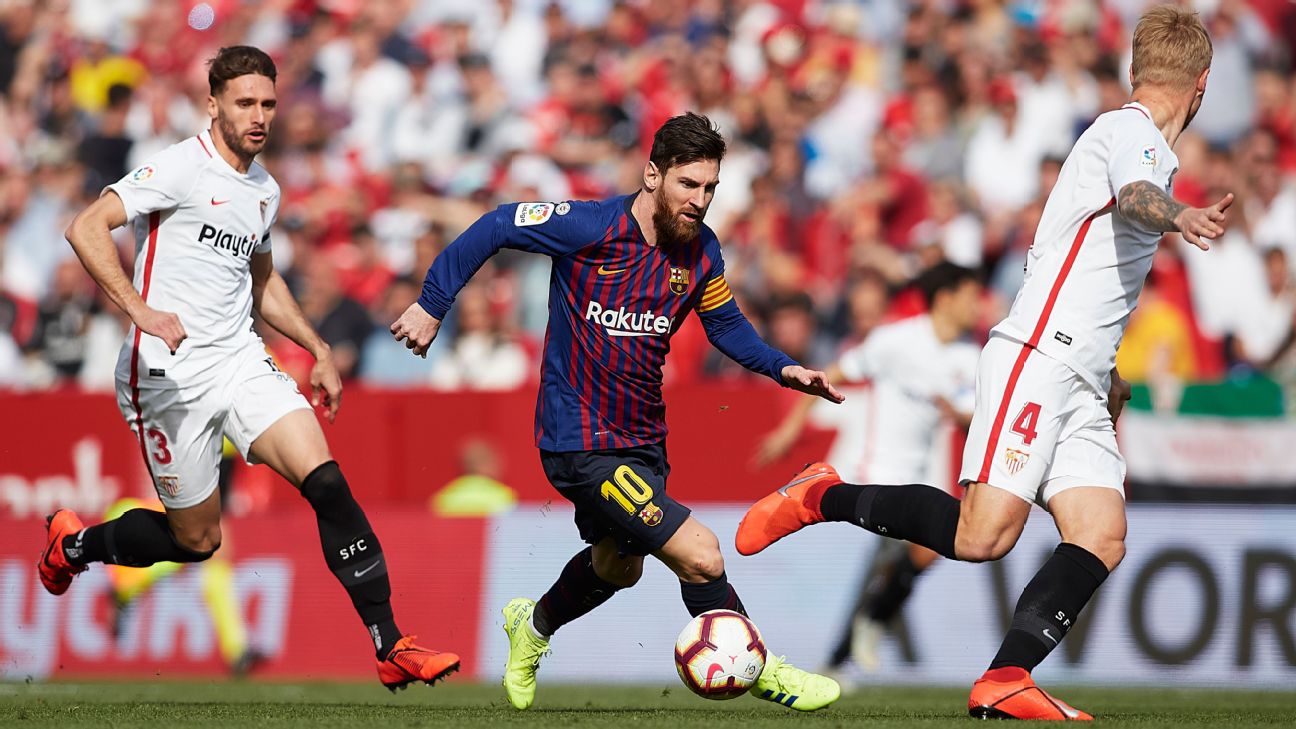 All of you who drive know what your safe stopping distance is. You must leave time to think, then to brake, then for the brakes to be effective. For big vehicles — in football terms, teams such as Barcelona — the distance is much greater. In other words, the time needed between a behemoth's realising it's time to stomp on the brakes, slowing down and actually stopping is huge: It can be significant if you're used to traveling at high speed.
What my comparison means is that while the Blaugrana have been qualifying for eight of the past 10 Copa del Rey finals, winning the past four, they've become a big rig going about 90 mph. Recently, the vast outlay of energy and intensity, plus the lack of time for recuperation in January and February, has begun to cost them heavily when it comes to the "it's you or me" moments in the Champions League against Europe's better, more aggressive and athletically sharper teams.
I wrote in this space about three seasons ago about how Barcelona's obsession with the cup was costing them in Europe. The club, and Carles Puyol, caught up with my thinking a few months back, and the former captain, finding analysis to be less emotional and more clear-cut from the sideline, pointed out that it was time to sacrifice the hell-for-leather approach to a domestic knockout bauble in favour of conquering Europe again.
Yet Barca's braking distance has still been substantial. Twice they've been on the canvas in the Copa del Rey — away to Levante and Sevilla in the first legs — and then thrown the kitchen sink at their rivals to claw back 2-1 and 2-0 deficits in the Camp Nou leg. They are in the process of re-evaluating and reprioritizing, but over this past decade, which plays such a role in Wednesday's contest, fighting tigerishly in the domestic cup has become such an ingrained part of the majority of these players' minds that it's hard to discard.
Each and every one of Valverde's men, whether in the starting XI or on the bench, whether it's the smart option or not, will treat this as if it were a fight to the death, as if the loser will be branded a rube and a chump. Although I imagine Valverde will calibrate his starting lineup a little, he'll also be craving a shot at Valencia or Betis in the final. His players will also believe, in their hearts, that this can be their first step to a potential treble.
Whether from the start or once they get going, we'll see attitudes from Barcelona's players that are revealing: While they've tapped their brakes, the distance between that decision and this collision with Madrid has been too great to prevent the match being all-in. For the neutral, there's an argument that if Solari gets his prematch conclusions correct, if he picks an absolutely full-strength XI and pinches a line from Shakespeare to tell his troops "Cry havoc and let slip the dogs of war," then this might be the better, more explosive and more memorable of the two Bernabeu Clasicos that will entertain us over the next few days.