So much has changed since the last Derby della Madonnina. Back in October ahead of their first meeting of the Serie A season, Inter were deserving victors, with Mauro Icardi the hero and his team improbably top of their Champions League group. Milan on the other hand witnessed Gonzalo Higuain descend into a funk and were mired in a crippling injury crisis.
The roles are now reversed. Milan are on the march and have overtaken an Inter side that's on the slide. There has been a remarkable nine-point swing between the two. Higuain's replacement Krzysztof Piatek is on fire. Icardi meanwhile is on ice. And where the scrutiny once fell on Gennaro Gattuso, it has now shifted to Luciano Spalletti.
Here are all the storylines you need to prep for Sunday's game (3:30 p.m. ET, ESPN+).
Who needs the win more?
Both managers would raise their hands if asked. A sixth straight win in the league would not only match Milan's best streak since 2007, the year they last won the Champions League, but it would send them four points clear of Inter and make a return to that very competition more likely than it's ever been at any point over the past five seasons.
Milan have taken 20 points in 2019. Inter, by contrast, have claimed just 11 and the timing of this derby could not be worse for them because just as everything is coming together nicely for one, the other is coming apart at the seams. The momentum is indisputably with Milan who, it should be noted, can still win a trophy this season. Inter meanwhile are out of Europe, out of the Coppa Italia and risk falling out of the top four now Claudio Ranieri is back to revive Roma. The pressure is on the Nerazzurri.
The X factors
P2 was a masonic lodge implicated in some of the greatest mysteries of 20th century Italian history. It's synonymous with intrigue and power, of course; whenever a football team has a pair of influential players with the same initials (preferably P) who pull the strings and seem capable of changing the course of a game, the nickname writes itself. And so headlines raving about the impact of Milan's January signings, Lucas Paqueta and Krzysztof Piatek, have inevitably billed them as Milan's very own "P2."
Focusing on the prolific pistol-toting Polish international, one of the most interesting twists and turns of this Serie A campaign coalesces around the moment Milan gained a star striker at the exact same time Inter lost their own.
Piatek has been the revelation of the season in Italy and has somehow contrived to make two transfers in six months look like bargains even though one was for €4.5m and the other for €35m. Only Lionel Messi has hit more goals in all competitions this season than Piatek and his knack of opening the scoring, something he's done nine times in 2018-19 alone, puts his teams in great positions and gives them confidence.
As for Inter, they lack a game-changer at the moment. Lautaro Martinez has stepped up in Icardi's absence and was forming a promising understanding with Radja Nainggolan until the Belgian suffered another injury. The 21-year-old has missed some big chances this season but his interplay, carefully timed runs and flair for backheel nutmegs indicate he has a bright future.
What's the latest in the Icardi soap opera?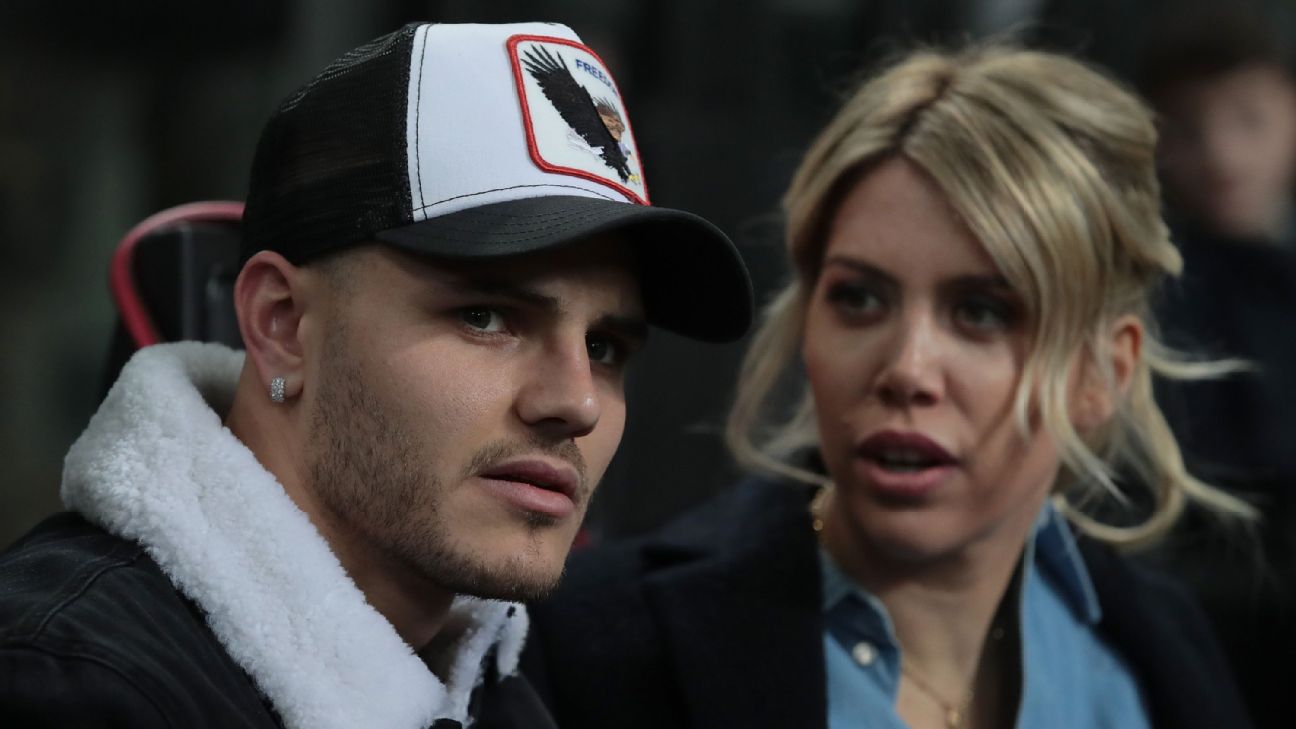 Inter's star striker — hasn't played for Inter since the club decided to strip him of the captain's armband a month ago. By an unfortunate coincidence, a bothersome knee injury flared up almost simultaneously and continues to aggravate the striker even though he got the all-clear at a medical check-up imposed by Inter on Feb. 20.
The situation has de-escalated slightly since some idiot decided to pick up a rock and throw it at the car of Icardi's wife and agent, Wanda. Her comments about his teammates and Spalletti's coaching are the root cause of his demotion — incidentally, Wanda was presented this week with the Socrates award for championing freedom of speech…
Efforts are being made towards a reconciliation. Chief executive Beppe Marotta has been in regular contact and has twice met a lawyer acting on Icardi's behalf, though problems remain. In a statement expressing his love for Inter, Icardi questioned whether it was mutual and threw shade at Ivan Perisic instead.
Inter initially coped well without Icardi, winning three games in a row, but bad refereeing decisions, injuries, suspensions and painful defeats have increased the urgency for his reinstatement. It was evident in Sardinia a fortnight ago when Inter were chasing an equaliser against Cagliari and Spalletti couldn't throw on another striker because Icardi was unavailable. They've even resorted to redeploying their tallest back-up centre-back, Andrea Ranocchia, as a centre-forward late in games.
In the meantime, Inter have been overtaken by Milan and Thursday's elimination from the Europa League closes another door to Champions League qualification. If Icardi loves Inter as much as he says he does he needs to put his grievances to one side and show up for his team in their hour of need, but Milan will be only be too pleased if he stays out in the cold.
Icardi scored a dramatic stoppage time winner in this fixture in October, catching Gigio Donnarumma and the Milan defence out with some of the best movement you'll see from a striker all season. He has bagged five goals in his last four games in this rivalry and is regarded as Milan's nemesis. The trouble is, at the moment, Icardi is Inter's nemesis too.
Why is this rivalry known as the Derby della Madonnina?
She glints and glares from the roof up the stairs. A statue of the little Madonna watches over Milan from her vantage point atop the city's Duomo. Locals and tourists alike walk in her shadow and out of respect for this little Madame, it was forbidden for any other building to be taller.
Approaching her 250th birthday, she has relaxed her rules a little. Places like the Pirelli skyscraper and the Isozaki tower, a building presumably haunted by the ghost of Hans Gruber, now loom larger on the Milan skyline but were only granted planning permission on the condition they include a copy of the Madonnina on the premises.
As such, the name of this fixture should probably be pluralised and called the Derby delle Madonnine.
What is that music I hear?
Milan are hosts this time around, which means they get to use their playlist. Expect to hear "Milan, Milan solo con te," commissioned (and co-written) by former Milan owner and former Italian prime minister Silvio Berlusconi; rumor has it he'd force his Inter-supporting chauffeur listen to play it in the car on repeat. The notes wouldn't sound out of place at some Milan-themed Disney World or at the launch of a political campaign.
Just as Inter updated the wave-your-lighters rock ballad "C'e solo Inter" with Amala — an insidiously catchy number sang passionately by Javier Zanetti and whomever he was playing with at the time — Milan brought in rapper Emis Killa to make the club more hip in 2013. What Berlusconi made of this is unclear. If a player had the same bad boy tattoos and piercings as Killa, there's no chance Silvio would sign him. You can bet he'd party with him, though.
But we digress and anyway, the ultras in the Curva Sud are much better to listen to, especially in their current verve that takes great inspiration from the Argentine style. The naughty songs they have adapted from their counterparts at San Lorenzo makes the soundtrack to any Milan game a fun listen.
Great moments in derby history
In 1957, Milan were given the chance to equalise via the penalty spot in stoppage time. As his teammates clashed with their opponents, Inter striker Benito Lorenzi — nicknamed "Venom" for being one of the all-time great trash talkers, not a superhero — nipped over to the sideline for a drink when he noticed some lemon halves left over from half-time.
Lorenzi picked one up and while Milan's players were distracted, he put a slice in front of the ball that Tito Cucchiaroni had already placed on the spot. Cucchiaroni missed and Inter won. Lorenzi meanwhile made a dash for the dressing room pursued by a mob of angry Milan fans who had invaded the pitch.
Final score prediction
Milan 2-0 Inter: Milan are everything Inter are not at the moment. There's a togetherness about them, a family spirit, a culture and all-round feel-good factor that contrasts strongly with their "cousins." Milan's defence is the best in Europe's top five leagues since the beginning of December and Piatek guarantees goals.Inter were the form team in October and won but Milan are in the ascendancy now. Whatever happens the result will leave an echo over the course of a long international break.