MANCHESTER — It's a freezing Friday on the outskirts of Manchester. Snow has been cleared from the carpark at the AON Training Complex. But it's no "Beast from the East" and nothing, one imagines, compared with winters in New Jersey.
Giuseppe Rossi has been out in the icy conditions this morning, completing a finishing session with Manchester United's attackers. He looks hungry, both to play and for something to eat. It's past one o'clock and when conversation turns to his time in Parma and Florence, the Tortellini all'erbetta and a rare and juicy Bistecca alla Fiorentina, he leans back in his chair and says: "Oh! You're killing me man. I still didn't have lunch."
It's Rossi's birthday and just as he is turning 32, Gabriel Batistuta is celebrating his 50th. "I used to love the way he played back in the day," Rossi smiles. "He's a legend out there in Firenze and a legend in general too."
Eighteen months after leaving Tuscany, Rossi is still in Fiorentina fans' purple hearts and will be for a long time. He's received "a few texts today from people in Florence," and you can understand why. In 2013, Rossi starred as they roared back from 2-0 down at half-time to overcome rivals Juventus 4-2 in an unforgettable game at the Artemio Franchi. The Viola hadn't beaten their eternal enemies for 15 years in Florence. The scorer of the only goal that day: Gabriel Batistuta.
"At the end of the game I'm seeing fans crying," Rossi recalls. "I'm seeing fans two hours after still waiting for all the players to come out. That's when I realised what a special victory that was." Currently training alongside Paul Pogba, he graciously hasn't reminded the Frenchman of the way he rolled him before hitting one of those trademark Rossi strikes from outside of the box, beyond the stretching Gigi Buffon.
One wonders if he scored one like it in this morning's session. A free agent since departing Genoa at the end of last season, Rossi has trained with New York Red Bulls and, represented by the same agent as United's Romelu Lukaku, was delighted to be invited by former teammate Ole Gunnar Solskjaer to work out with United. (Rossi was a United player from 2004-07.) Talks with clubs are going on, he confides, but his focus at the moment is on pushing himself and United's talented bunch of forwards to be as good as they can be.
It's evident that Rossi is enjoying being at Carrington again. His former teammate Ole Gunnar Solskjaer, now manager of United, is, in his words, "bringing back a certain type of energy to this team," an energy Rossi is benefiting from and contributing to and in being here, for now, Rossi has come full circle.
Rossi was just a kid when United first cast eyes on him and decided he was the next teenage talent they absolutely had to sign after some winger named Cristiano Ronaldo from Sporting in Portugal.
"I remember after a game when I was 16 [and playing for Parma's youth team] a person approached me with a pin in his hands and he gave it to me and he says: "Look down. This is the team that I work for and we are very interested in you. I looked down and it was the Manchester United pin and inside of me I was like: 'Oh my gosh this is something crazy.' So I went home. I talked to my father and it all started from there."
A photograph of Rossi signing his first professional contract with Sir Alex Ferguson and David Gill still hangs in his room, his passion for his craft undiminished even after the injuries, surgeries and rehab.
"I am here today loving the game as much as I did as when I was a kid," he says, a love Rossi's dad, Fernando, instilled in him from the day he could walk. "The passion I have for the game came from my father," he explains. "One hundred percent. He was born in Italy. He was a huge Milan fan and I grew up being a Milan fan also. We used to wake up at 9 o'clock in the morning every Sunday, catch the games, go out in the backyard every day, kick the ball around.
"He used to come back from work for lunch, put a couple of cones around and I would always be dribbling in between them, I was two years old, so it was in my blood since I was that young…"
That backyard in Clifton, N.J. was, in Rossi's imagination, every bit as hallowed as the San Siro. Getting to play there as a pro was a dream come true. "I used to have this video tape of the three Dutch players who played in Milan; [Ruud] Gullit, [Frank] Rijkaard and [Marco] van Basten," Rossi reminisces. "I probably watched that like 20 times and just admired the way they would play."
An ankle injury forced van Basten to retire young, at 28, but the thought of following suit, even after five knee surgeries, has never entered Rossi's head. Fluent in three languages (English, Spanish and Italian), quitting just isn't in his vocabulary.
"Definitely not," he says. "That's something that never crossed my mind, I love this game too much. I have sacrificed too much for this game. Not just me, my whole family, and I don't want to let anybody down. I don't want to let them down. I don't want to let myself down. This is what I love to do. This is what I love to do. You get knocked down, once, twice, three, four times, whatever it was during my career but I've always had that mentality to come back, to continue competing at a high level and that's what I'm here to do today."
That mentality has never buckled even under tremendous strain. Take the injuries he suffered that seemed so cruelly timed, coinciding with his best moments. The grief he copped for choosing Italy, the country of his blood, over the U.S., the land of his birth. Then there was the loss of his father in 2010 and the decision, a few months later, Marcello Lippi cut him from the Italy squad on the eve of the World Cup. Rossi had done everything to recover in time for the tournament four years later, only for Cesare Prandelli to act as Giovanni Trapattoni did with Roberto Baggio in 2002 and leave him out.
Rossi acknowledges there have been "dark moments" over the years and says: "I did a lot of thinking back in the day about what could have been or what not could have been but it's not something that I do now."
The day before we met, he told AS about an offer to sign for Pep Guardiola's Barcelona, which was scuppered ultimately by the first knee injury he suffered at the Bernabeu. In a previous visit with Villarreal, he'd skipped past Fabio Cannavaro and put the ball in the only place Iker Casillas couldn't reach it.
The what-ifs can be torture. "It's not something that I want to do," he reiterates, "because it's definitely not healthy. It's definitely not healthy. I always try to think about what's going to come in the future or in the present mostly; what I have to look forward to and that right now is training and being fit."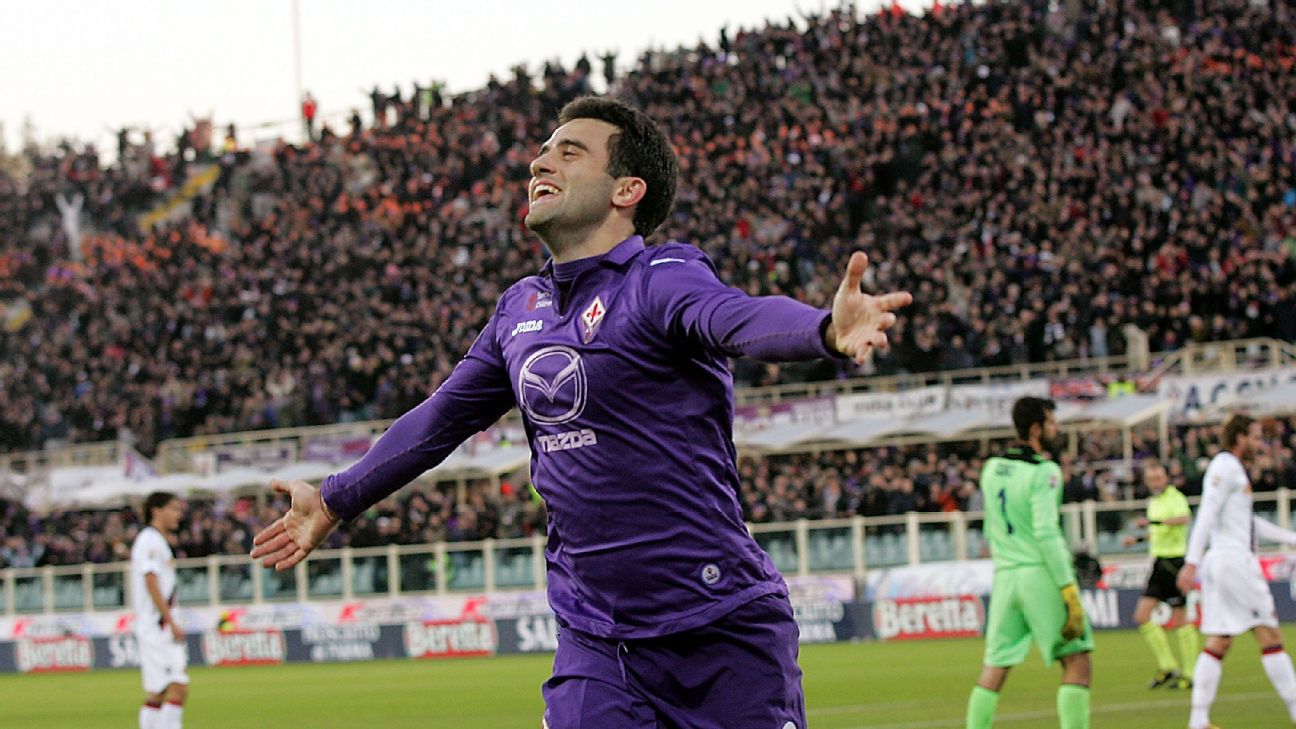 When Rossi's father passed away in 2010, he left his son a letter detailing the fundamentals he should never lose sight of — control, shooting, dribbling, leading — and encouraging him to "watch and study the game as much as possible."
"I still have it," Rossi says. "It's actually the back of my screen on my phone." Those principles remain at the core of who he is and what he does even on a day cold enough to discourage the majority of people from simply stepping outside.
The next chapter in his football life is still to be written, of course, but Rossi's goal is something we can all relate to.
"I just want to be happy," he says. "That's what it's all about: just being happy, having fun and I hope that I can feel that very, very soon."