MARBELLA, Spain — The team hotel is still the same, a V-shaped block of glass and white stone that wouldn't look out of place on the Las Vegas strip, overlooking the same glistening sea like blue foil just beyond the palm-tree lined promenade. For the third consecutive year, Borussia Dortmund have returned to this pleasing spot on the "Golden Mile" of Spain's Costa del Sol, preparing for the second half of the season under the warm Andalusian sun while half of Germany is buckling under a blanket of snow. But you only have to spend a few hours in the company with players and staff to understand that this time, it's a little different.
This time, they're actually enjoying it.
"Are we happy? No one's ever really happy to be in training camp," says sporting director Michael Zorc with a laugh, implying that the team's eight-day stay in Marbella would be a lot nicer if didn't entail daily double-practice session and three friendlies. But the 56-year-old agrees that the mood is markedly better than in the two previous years.
"The right word is 'relaxed.' We are more relaxed [than in previous years]. The atmosphere has changed. It's easygoing, yet focussed."
Back in January 2016, at the tail end of Thomas Tuchel's reign, the club was in the midst of a full-blown dressing room civil war, torn between those who felt that a rapprochement with the highly combustible, but technically brilliant, coach remained possible and the majority, who wanted to see him gone sooner than later. The tension was palpable then, as was the inevitable onset of nostalgia for the much more harmonious Jurgen Klopp years.
Twelve months later, the nervousness was no less pronounced with BVB close to a crisis, 13 points adrift of leaders Bayern Munich, out of the Champions League and in danger of missing out on the all-important qualification for the following campaign in Europe's top competition. Dutch manager Peter Bosz had just been replaced by much more cautious Peter Stoger, but the Austrian would fail to spark new life into their season. Dortmund barely scraped into fourth place and were forced to play their stodgiest football of the decade. 
By contrast, 2019 has started as 2018 has ended: with Borussia on a high. They're top of the table, six points clear of Bayern, still alive in all competitions and widely admired for their youthful football of the most thrilling sort. They've got every reason to look forward to the restart of the campaign on Jan. 19 (vs. RB Leipzig) full of confidence.
"The belief is big," says soft-spoken Danish international Thomas Delaney. "The best thing about it is that I don't even feel that we are where we can be yet. You talk about a 'process' and all that boring stuff, but it makes sense to see it that way. We still have lot of ways to improve, we can still play better, especially against the smaller and middle teams who are very deep."
Delaney, an all-action, box-to-box player signed from Werder Bremen in the summer, is one of six new outfield players who have transformed the team's fortunes. Dortmund signed him and experienced Belgium international Axel Witsel (from Chinese side TJ Quanjian) to add balance in midfield; their presence enables Dortmund's attackers to play a fluid attacking game with less fear of leaving the back four exposed.
"We have great young players. But even the likes of Marco Reus and Mario Gotze, they have so much passion in their game, they have so much potential and creativity," Delaney says. "We let them loose. They're supposed to get carried away. We do whatever it takes to let them play."
Of course, it's all a bit more complicated than he lets on. Five minutes down the road in Dama de Noche, a football complex so new that dozens of shrink-wrapped gym machines are still scattered around the unfinished parking lot, Lucien Favre overlooks training on a wooden five-meter high platform, next to a cameraman working for the analysis team. The Swiss coach spends a few minutes giving animated instructions on how he wants the practice session to be filmed before going down to the pitch for a closer view.
Five different groups of players, roughly separated into specialist sub-teams, are simultaneously engaged in a series of drills that include dribbling through very narrowly placed poles and synchronised patterns of attacking plays. "Quick feet, quick movements," shouts assistant coach Edin Terzic. There's a noticeable sharpness and purpose to proceedings; the session culminates in a small pitch game where players are only allowed to shoot from point-blank range.
Favre, a stickler for details, always tells his teams to maximise their chances of scoring by picking the most promising positions on the pitch. It's one of the suspected reasons his sides regularly outperform the Expected Goals (xG) metric. But there's more.
"I'm consistently surprised by him tweaking small things — tiny things, even — to get a bit more performance out of the players," says Zorc. "Whether it's about the perfect position of the foot or even the hand, or how you best open up your body, he offers individual advice to each and every player after the regular training sessions and keeps working on it.
"We have a lot of young players who really want to get better. They really value that level of coaching."
The 27-year-old Delaney gets taught new tricks too, explaining that Favre talks to him about screening the space behind him, about which foot he should use to attack the ball, how to control and pass seamlessly.
"It's a lot of stuff that you don't really think about as a football player," he says, adding that Favre has been especially helpful when it comes to Delaney's "flow on the ball" and helping him to find better passing options.
Christian Pulisic has been just as impressed.
"He's given us a lot of little input here and there, on the smallest things. He really does. And you can see it in our team, how we played this year, how we defend and how we attack. So it's been a really fun year."
Probably more fun than the club have had with anyone on the bench since Klopp's departure, as Zorc intimates.
"We get the sense that Lucien is a great fit for us, also in terms of working together with him and communicating," he says.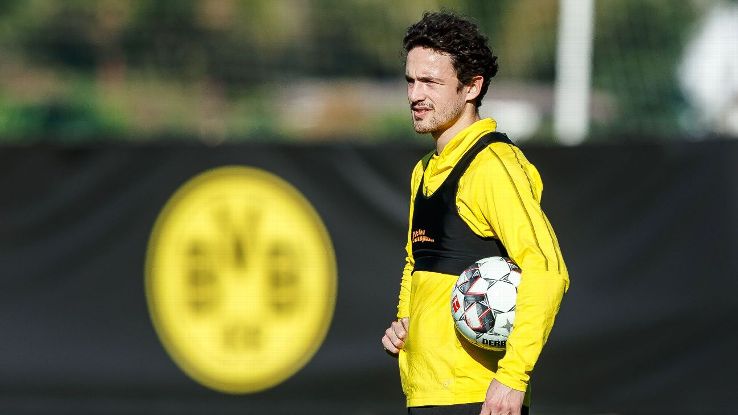 Bayern's relatively poor start under Niko Kovac has provided a unique opportunity to break the record champions' stranglehold on the league, momentarily at least. But you won't find anyone in the BVB camp using the "M word" (Meisterschaft) without the highest degree of caution.
"One thing that works for us [so far] is not focussing on the table," says Delaney. "It's always difficult to be the one being chased. It can be easier to chase, you feel less pressure. But there is more pressure on [Bayern]. We are a good story, even to ourselves. We are doing a lot of stuff right, we are interesting to a lot of people in German and Europe. We are making waves."
"There's definitely some dreams out there," is as much as Pulisic will say on the matter.
Beating all the strongest teams in the league — Bayern, Leipzig, Borussia Monchengladbach — as well as Atletico Madrid in the Champions League has been a source of great pride, Delaney admits, but it comes with a warning. The sun-kissed serenity of Marbella and the most pleasant, comforting winter break they've had since they last won the league in 2011-12, must not spawn complacency once they swap the Mediterranean for Signal Iduna Park again.
"We can [compete] with every single team in Europe," says Delaney. "But the moment we start thinking 'we are very good, we are better than them,' then we will struggle. We are our own biggest opponent. For me, that's the most important thing to bring into the second half of the season."
History has taught them that small steps are the best way to make it big.