"Not in my wildest dreams could I have imagined being coach of Barcelona," Quique Setien said after the club appointed him last week, ending a turbulent chapter under the previous boss, Ernesto Valverde. "I never thought Barcelona would choose me."
Nor did most people. Betis' 61-year-old former coach is a committed follower of Johan Cruyff, father of Barcelona's football, but he was jobless with an unremarkable coaching career when the club tapped him to replace the sacked Valverde. Yet it's precisely Setien's modest coaching career that appeals to Barca, and the same applied to the club's first choice, Xavi, who turned them down.
Xavi was a great player whose coaching experience to date amounts to a few months with Al Sadd in Qatar. I realized recently while reporting a book I'm writing about how Barcelona works: The last thing this club wants is a big-name coach. Almost everywhere in football, the role of the coach is shrinking — and nowhere more so than at the Camp Nou.
— Inside Story: How Barca fired Valverde, hired Setien
— Hunter: Barca's treatment of Valverde 'indefensible'
— Laurens: Valverde never the right boss for Barca
The last time Barca chose someone who was an A-list coach at the moment of his appointment was in 2002, when Louis van Gaal briefly returned to the club. After his failure, Barcelona decided to reverse its decision-making. Instead of hiring a coach and letting him decide what kind of football to play, the club would decide what kind of football to play and find a coach to go with it.
What kind of football to play was obvious: the fast-passing, attacking, pressing Dutch style introduced by Cruyff in his years as club coach from 1988 to '96. In 2003, Barca's new president, Joan Oliver, asked Cruyff which coach could bring that football back. Cruyff recommended his fellow Dutchman Frank Rijkaard, freshly relegated from the Dutch Eredivisie with Sparta Rotterdam. Rijkaard came to Barcelona and won the Champions League in 2006.
When Rijkaard left in 2008, Barca nearly appointed a big-name coach, as club officials flew to Lisbon to interview Jose Mourinho. Hiring him seemed the obvious choice, but Barca didn't. Mourinho's defensive game was the opposite of Cruyffian, and his abrasive public persona was the opposite of the "respect" the club wanted to project. Instead, Barca appointed a no-name coach in 37-year-old Josep Guardiola, who, although a former A-list player for the club, at that point had managed only one team, Barca B. Guardiola quickly became the biggest-name coach in football, but after he left in 2012, he was succeeded by a string of "lesser" names. First was Guardiola's assistant, Tito Vilanova, and after he resigned, the obscure Argentine Gerardo Daniel 'Tata' Martino came in, followed by the inexperienced Luis Enrique, Valverde and, finally, Setién.
In short, Barcelona recruits no-name coaches. At this club, the coach isn't the boss. He doesn't determine how the team plays. Rather, now that the Cruyffian house style is fading out inside Barca, the team's style of play is largely determined by the players, in particular by Lionel Messi.
Messi's low charisma and habitual public silence are deceptive. Inside the changing room, he's a tough, demanding leader with strong views on how football should be played. Barca have managed to keep him at the club, playing brilliantly week in, week out, for 15 years. To do that, successive presidents have more or less handed him the keys. Although Barca won't admit it, Messi has unspoken veto power over most player transfers, coach appointments or major tactical decision. I concluded this based on dozens of conversations with club officials and extensive reading on Barcelona's Messi era.
Sometimes Messi will even try to initiate decisions, though in those situations, he doesn't always get his way. Last summer, for instance, he summoned president Josep Bartomeu and let him know that Barca should bring Neymar back to the Camp Nou. The club took a look at the injury-prone 27-year-old and decided he wasn't worth the approximately 200 million euros Paris Saint-Germain wanted. Barca then spent much of the summer more or less pretending publicly to sign Neymar so they could eventually return to Messi and say, "Sorry, we did our best, but we couldn't get him."
Laurens: Inside story of Barca's failed Neymar pursuit
Barca's playing style is determined by Messi, as well as senior teammates such as Sergio Busquets and Gerard Pique, in collaboration with the coach of the moment and his staff. In recent years, Messi has decided that he no longer has the stamina to press opponents and wants to spend most of the game at inside-right rather than further wide. Whoever happens to be Barca coach has to adapt accordingly. The club signed Arturo Vidal to be Messi's legs, the pressing game has been largely abandoned, and the basic strategy has become "just give Messi the ball." It mostly works.
Around Messi's influence, every Barca coach understands his modest role. When I visited Valverde last year at the first team's training ground, the Camp Tito Vilanova, his white office walls were almost bare except for the first-team's schedule. There was barely a personal touch in the room. He knew that in this club run by long-term local staffers, where players often stay their whole careers, the head coach is a mere passer-by. He can bring only one or two assistants with him. Mostly, he works with what he finds in place.
Valverde, a little man with a self-effacing grin, told me: "This is a continuous sport in which the coach has barely any influence, or at least much less than in basketball. We only have three substitutions. The game never stops [for timeouts]. So football belongs to the players. For 45 minutes at a time, nonstop, the player takes his own decisions. I have to say that the great players analyse the game better than I do." He quickly corrected himself: "Instead of analysing, I'd say they interpret play. On the field you can't think. You must play."
Barca's coach and his analysts cannot tell great players how to play. To the contrary: The club's staff seemingly learn about football from observing these players. Busquets, for instance, knows exactly how to draw an opponent toward him and then release a teammate into the space the man has left. No coach shouting instructions through an imaginary earpiece could advise him better.
In the recent documentary series "Matchday," produced by club sponsor Rakuten, there are several scenes filmed inside the changing room that reveal in vivid deal the shrunken role of the Barcelona coach. The moments before kickoff are particularly revealing. Valverde will give a brief tactical talk, after which senior players often say a few words. Messi usually makes much the same short speech, emphasizing the need to think coolly. Just before a game against Atletico Madrid, for instance, he tells his teammates: "Tranquilo, like always, without losing our heads. Not too quickly."
Motivating footballers is much less important than most outsiders think. A player who can't motivate himself will probably never reach Barcelona's first team and certainly won't last there. Whatever motivation is needed before kickoff isn't provided by the coach. Rather, all the players and the coach will lock arms in a huddle and shout, "One, two, three, Barca!" That's it.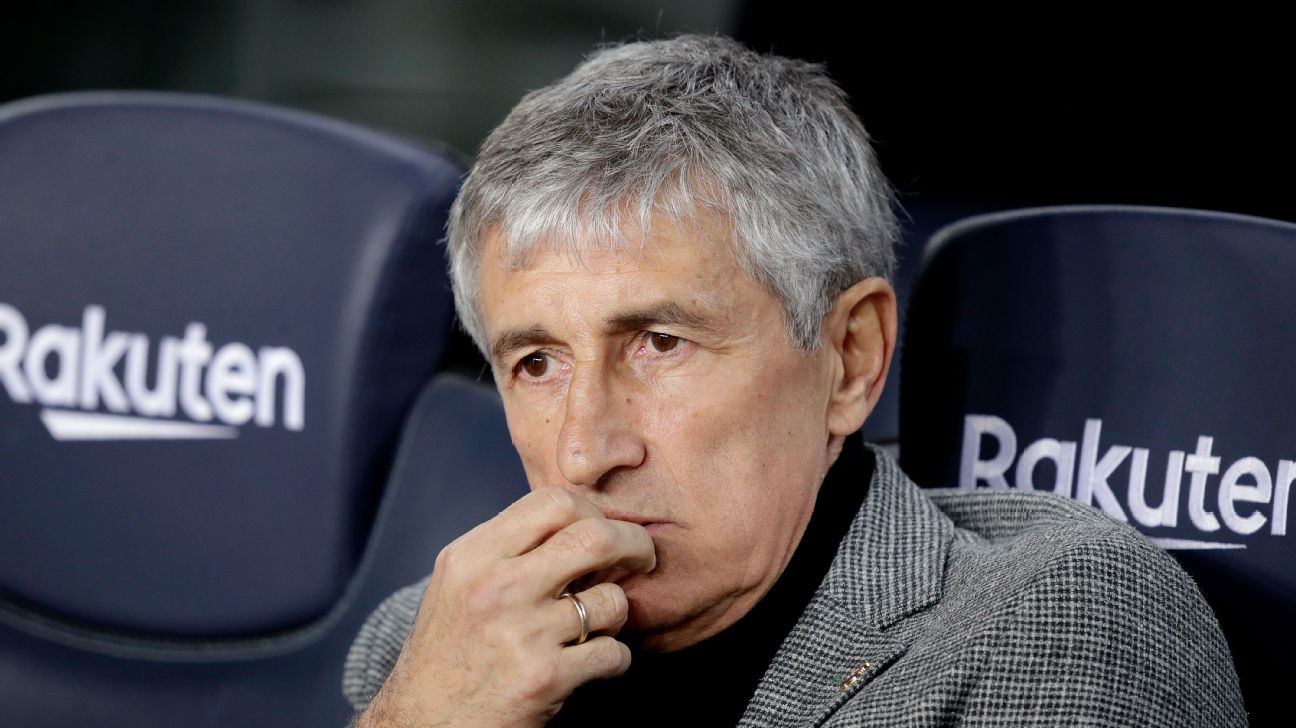 In another scene in the documentary, hours after Barça have beaten Real Madrid 5-1, Pique is reminiscing with Rakuten's chief executive, Hiroshi Mikitani, and the time he persuaded Valverde to let the players go to a party after a game in New York. In Pique's telling, he says, "Listen, Mr. Valverde, we go to a party." Then he mimics Valverde's reply: "Why? Why? Why? I see no reasons to leave you go to party." Laughing, Pique recalls his own retort: "Doesn't matter, we will go anyway!" It's a vignette that reveals where power lies inside the club. Valverde emerges from the documentary as a kind of friendly schoolteacher who doesn't scare anybody.
Inside Barça in recent weeks, there had been growing dissatisfaction with Valverde about disappointing play and results, as well as his neglect of gifted players from the youth academy. Setién has been tasked with setting that right. Immediately after being appointed, he invited several youngsters to first-team training.
Even if Setien wins the Champions League, he'll only ever be one of several voices in Barcelona's changing room. That isn't because he is weak but rather because that's how the club is supposed to work. As long as Barca have a team full of experienced, world-class players topped by Messi, plus the remnants of their Cruyffian house style, a strong coach would only get in the way.