W2W4 previews the week's Premier League action by highlighting its most compelling storylines …
Could Liverpool give the title away?
Some games feel too big to fail. So much of the meeting between Manchester United and Liverpool on Sunday points towards a classic — the sort of sensational, spiteful, meaningful game that everyone present will remember for years — that you can trick yourself into thinking there's no possible way it can be anything else.
We have Liverpool with their best chance of winning the league for nearly 30 years, playing their game in hand on Manchester City. Then there's Manchester United, having recovered their form and pizazz, on a domestic unbeaten run that stretches back to the middle of December, the last time they faced Liverpool. What could possibly go wrong?
Naturally, we've all been scarred enough times by games that promise but don't deliver, to know that no fixture is a guaranteed zinger. What we do know for sure, is that there is much more pressure on Liverpool than Manchester United.
Should United lose, their realistic aim for the season — Champions League qualification — will still very much be on. But if Liverpool lose, the consequences are more serious: Manchester City have that look in their eye again, a sense that the remorselessness of which they're capable is back, and that they won't lose too many more games this season.
Liverpool will have to sprint to the finish line to win this title. If they lose on Sunday, City will probably take it comfortably.
Should Tottenham throw Kane back in?
"Everyone knows that Harry is an animal, he wants to be ready as soon as possible," Mauricio Pochettino said about Kane, who is training again after injury. "We're so happy that in the last 10 days he was fantastic, back in training again, and he can be available again. It's going to be a massive impact for everyone."
Aside from his goals, Kane is a player who seems to defy medical science — or at least medical prognosis. He always returns earlier than the initial estimates, as if he regards them as an affront to his powers of recovery. This time, if he is back in the Spurs squad for the trip to Burnley on Saturday, he'll have shaved about two weeks off his projected time out from the ankle issue suffered against Manchester United in January.
The question now is when Pochettino should ease him back in: Burnley are not an opponent that you would think will require a full-strength Spurs, and thus there's no need to rush Kane back, especially with games against Chelsea and Borussia Dortmund to follow. They will want him for both, but it would be a risk to throw him in undercooked. Pochettino will have to strike a delicate balance.
Will Ozil get another chance?
Mesut Ozil didn't play badly against BATE Borisov in the Europa League on Thursday night. It's just he didn't play especially well either. After the game Unai Emery basically suggested that he viewed the German as a squad player, the sort who can help Arsenal out from time to time when required. Probably not what Ozil had in mind when he signed his £350,000-a-week deal a year ago.
Arsenal's next two games are against Southampton on Sunday, then Bournemouth in midweek: Ozil must hope he gets another chance in one or both of those games so he can press for a more regular place in the starting XI, particularly as the following two league fixtures see the Gunners face Tottenham and Manchester United. Those are the games that Ozil probably had in mind: now he needs to earn his chance to play in them.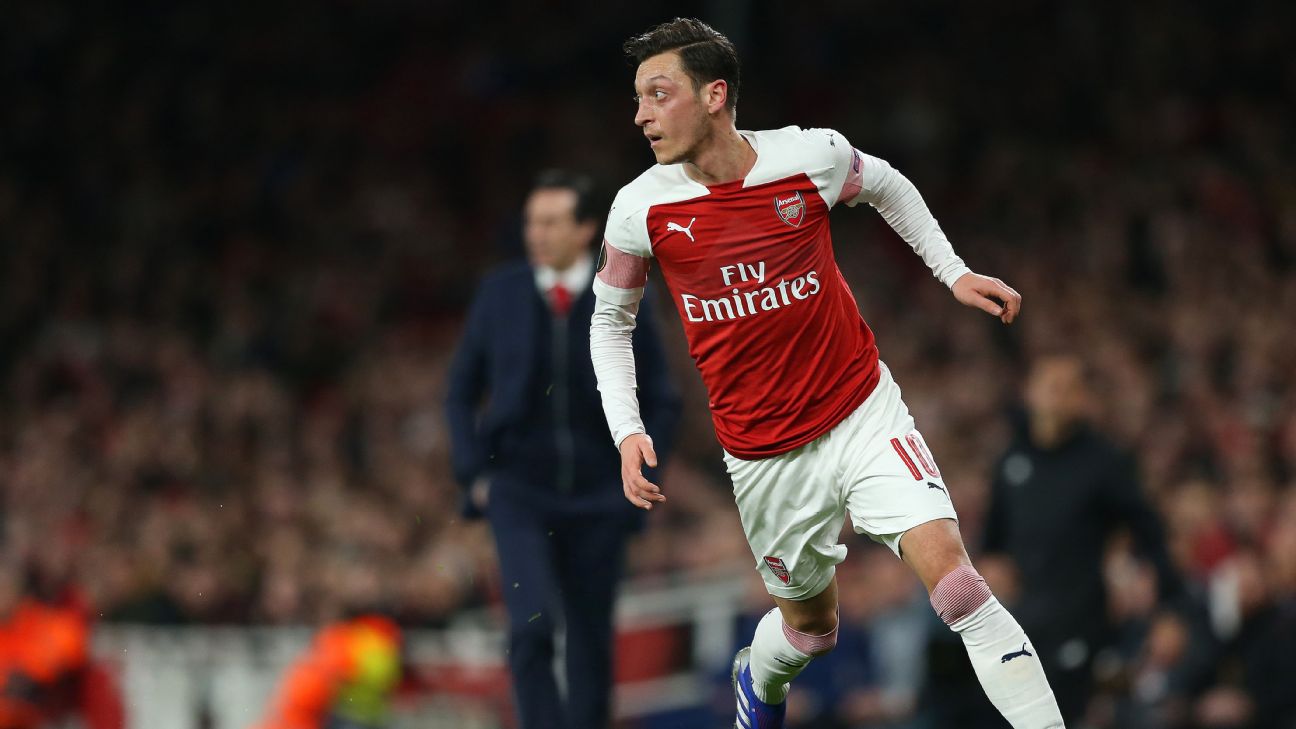 West Ham's spark could return
West Ham are a confusing team. In December they won five of their seven games, from what was admittedly a pretty friendly fixture list. But since the turn of the year they've only taken three points once, and been knocked out of the FA Cup by AFC Wimbledon. They got that creditable draw with Liverpool a couple of weeks back but were well beaten by Wolves and Bournemouth, while the draw with Crystal Palace last time out was a let down too.
They need something to jolt them back into action, a spark of some sort, and that might just come with the return of Manuel Lanzini. The Argentine forward has missed the whole season so far after tearing his cruciate ligaments before the World Cup, but has been back in training and Manuel Pellegrini is weighing up whether to use him against Fulham on Friday night. Injury issues have denied West Ham most of their creative players for big chunks of this season, but with Lanzini, Samir Nasri and maybe even Jack Wilshere returning, that problem could be soon solved.
Will Claudio Ranieri recall Ryan Sessegnon?
If West Ham need something to reignite their season, that's nothing to what Fulham might require. Their chances of survival are dwindling by the week, every one step forward greeted by two back. And they fall over. Into a puddle.
Claudio Ranieri said he needed to "tinker clever" with his Fulham side when he took over in November, but it hasn't felt like he's done much of that, with odd team selections and formation alterations. One victim has been Ryan Sessegnon, the young tyro and great hope from last term who has found himself marginalised in recent weeks, and his name was chanted by the fans during the recent defeat to Manchester United.
Sessegnon last started against Burnley on Jan. 12, when he was taken off at half-time, so there's clearly something Ranieri doesn't quite fancy about the winger, but aside from the win over Brighton, leaving him out hasn't been working that well. With the gap to safety eight points and growing, it's reached the stage where Ranieri might as well try anything.
"We need some young players who have a new mentality," he said this week. Those are words, now we'll see if they're followed by actions.