This article has been edited after publication following Javier "Chicharito" Hernandez confirming he is set to join LA Galaxy.
Manchester United are dealing with a mounting injury crisis that led manager Ole Gunnar Solskjaer to admit at the weekend that the club will now be forced to seek out short-term solutions before the transfer deadline on Jan. 31.
Midfielders Paul Pogba and Scott McTominay are both out until mid-February at the earliest, but the back injury that threatens to rule striker Marcus Rashford out for up to three months is the biggest headache that Solskjaer must deal with.
Having allowed Romelu Lukaku and Alexis Sanchez to leave Old Trafford for Inter Milan last summer, Rashford's injury has left United with just two fit strikers — Anthony Martial and 18-year-old Mason Greenwood — so a new forward is an absolute must before the window closes.
But what are the options available to Solskjaer and United and how realistic are the prospects of signing any of them?
Here we assess 11 potential signings that could solve Manchester United's striker crisis.
The Uruguay international has requested a transfer from Paris Saint-Germain and, with the 32-year-old's contract due to expire in June, would be the perfect solution for United. Cavani is a proven, top-class striker, and sources have told ESPN that he is available for just €20m. However, Atletico Madrid, Tottenham and Chelsea are also keen.
Suitability: 9/10
The 31-year-old is the definition of a loan ranger, with Monaco his third temporary club in three seasons. The Algeria international has seven goals in 14 games for Monaco this season, but parent club Leicester are unlikely to sanction a move to a rival for Champions League qualification.
Suitability: 5/10
The 33-year-old former Manchester City forward has eight goals in 20 Serie A games for Roma this season and he has the pedigree and Premier League experience to be an instant hit at United. But Dzeko is under contract until 2022 and Roma would make United pay a hefty fee for the Bosnian.
Suitability: 8/10
The Serbia forward has scored just once for Real Madrid since a £54m switch from Eintracht Frankfurt last summer, but at 22 he remains a highly rated prospect and a loan move to Old Trafford could suit both clubs.
Suitability: 7/10
– Transfer Grades: All the big moves rated
– When does the transfer window close?
– All major completed transfer deals
The former Arsenal forward is out of favour at Chelsea and out of contract in the summer, so the 33-year-old should be an easy deal for United to do, if Chelsea are prepared to sell him to a top-four rival instead of send him abroad to Inter Milan. But Giroud lacks the pace or goals to fit United's system.
Suitability: 2/10
The 23-year-old, aka "Gabigol," is close to completing a permanent move from Inter Milan to Flamengo after helping the Brazilian club win the Copa Libertadores during his 2019 loan spell. United have the finances to hijack Flamengo's move, but he would be a gamble after failing to impress at Inter.
Suitability: 4/10
The 21-year-old Nigeria international is one of the emerging stars in Ligue 1 with Lille, with 10 goals in 19 league games, and he would be more of a long-term prospect capable of fitting into Solskjaer's system. He would cost United upwards of £30m, but he could fill a short-term gap and become a long-term asset.
Suitability: 6/10
Tottenham have been monitoring the Poland forward, but his return of just four goals in Serie A for AC Milan this season does not match up with his £40m price-tag. He is a name in the frame, but unlikely to be the answer for United.
Suitability: 3/10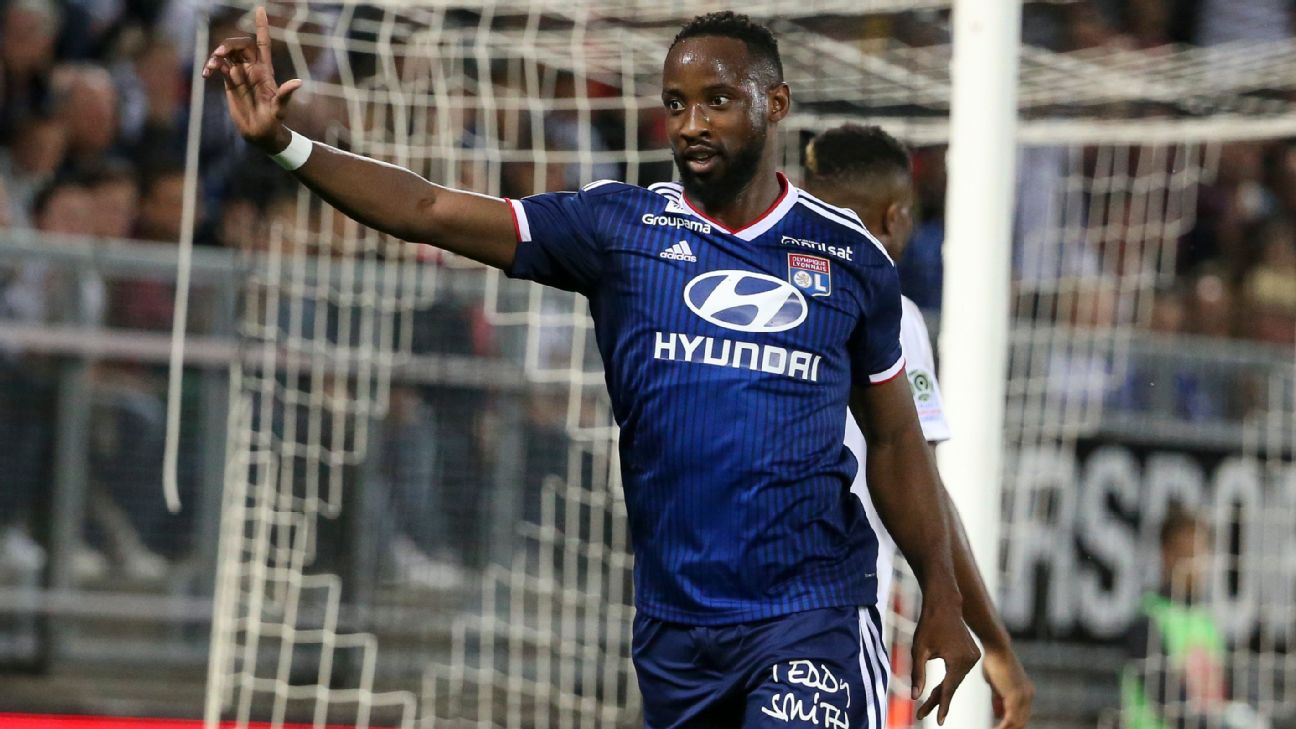 The former Celtic and Fulham forward is a man in form at Lyon and, at 23, is still young enough to fit into United's blueprint of signing players before they hit their mid-20s. Dembele wouldn't come cheap, but he would offer United goals and pace and long-term value.
Suitability: 7/10
United know all about the France forward after his goals helped Sevilla knock Jose Mourinho's side out of the Champions League in 2018. Short, quick and with an eye for goal, the 29-year-old cost Monaco £36m last summer, so it would cost a similar fee to sign him now.
Suitability: 6/10
Eleven years after his controversial switch from United to Manchester City, could Tevez be the short-term fix Solskjaer needs? At 35 years of age and with six months left on his contract at Boca Juniors, Tevez would be a low-cost gamble, but he would certainly bring experience, charisma and quality. Age counts against him, but if United are looking short-term, Tevez could be the answer in a similar fashion to Henrik Larsson and Zlatan Ibrahimovic.
Suitability: 4/10