LIVERPOOL, England — There is something breathless, reckless and uncontrollable about Liverpool's refusal to give an inch in their battle with Manchester City for the Premier League title. This is what life on a knife-edge feels like when you are so desperate to be crowned as champions.
Thanks to Toby Alderweireld's 89th-minute own goal in front of the Kop, after Tottenham goalkeeper Hugo Lloris had made an almighty mess of handling Mohamed Salah's simple header, Liverpool moved back to the top of the table, two points clear of City, following a dramatic 2-1 victory against Spurs.
That was the breathless part. The reckless and uncontrollable bit was played out during the previous five minutes when Spurs, having equalised Roberto Firmino's first-half opener with a Lucas Moura strike in the 70th minute, created three clear chances to hit Liverpool on the counter-attack. Moussa Sissoko missed the biggest opportunity, skying high over the bar from 12 yards on 85 minutes, but Danny Rose fired another good chance over and Dele Alli was inches away from curling into the top corner in the 88th minute.
Liverpool, so determined to win this game in order to reclaim top spot, played the final 10 minutes with only Virgil van Dijk and Joel Matip protecting Alisson Becker's goal and, remarkably, they got away with it.
"We have to fight like crazy," Klopp said. "The crowd was outstanding. They were really here to push us and at the end it helped.
"It is only positive. I said there are 500 ways to win a football game and today was slightly ugly. Who cares?"
When Salah wheeled away celebrating Alderweireld's own goal, the Egyptian forward knew how big a moment it could turn out to be, but can Liverpool continue to play like this over the final six games? Can they continue to be so reckless against the likes of Chelsea and Wolves, who are still to visit to Anfield? Or do they simply have to play like this, with caution thrown to the wind, in order to drive themselves on and keep the heat on Pep Guardiola's City?
Liverpool simply don't know how to play in a lower gear.
Remember their miserable 0-0 draw at Old Trafford against Manchester United in February? That day, Liverpool lacked edge and impetus and they were awful. It seems like they only have one speed — fast — and the emotional element, which fuelled the win-at-all-costs football that proved their downfall in the 2013-14 title race under Brendan Rodgers, is a huge part of Liverpool's DNA under Jurgen Klopp. It's all about high intensity and keeping the foot pressed firmly on the pedal, and with the back door usually unlocked, and it has borne fruit more than once this season.
Liverpool didn't settle for a point against Everton last December, when Divock Origi's stoppage time winner was their reward for pushing and pushing, regardless of the risks, for the winning goal. Against Spurs on Sunday, they were once again prepared to throw men forward, with scant regard for the potential consequences, rather than taking a deep breath and settling for a draw, which would have damaged their title hopes but not killed them.
Man City are hardly blowing teams away in the title race, but the champions appear to be in control of their destiny. They are not serene, but they have lost just one of their last 21 games in all competitions and have won 19 of the others. Perhaps it is because they have a squad of players who know how to win titles that there is no sense of chaos with Guardiola's team.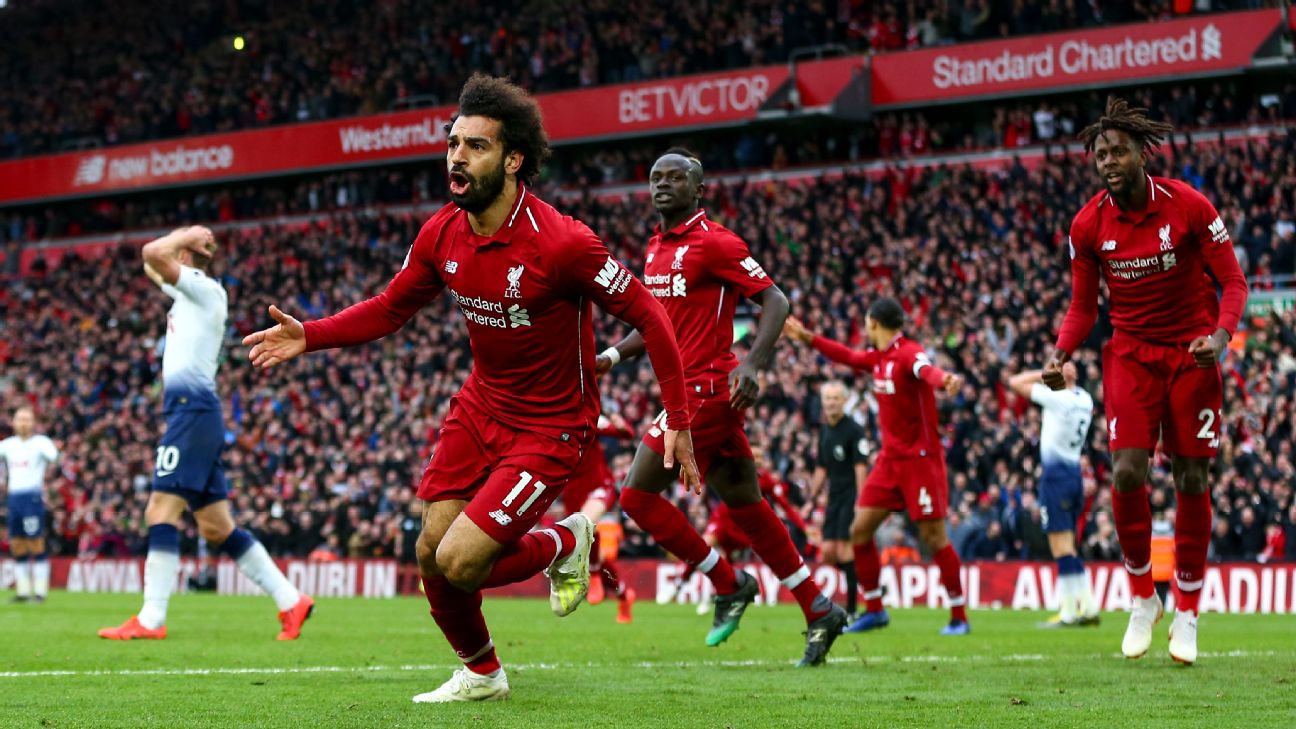 Liverpool? It was certainly chaotic during the final 10 minutes, but the chaos has rewarded Liverpool so far this season rather than hurt them. They have grown to believe that they are the team that will win with a late goal, that they will force a late mistake — Lloris, of course, emulated Everton's Jordan Pickford with his late howler in front of the Kop — but the danger now is that they fall into the trap of thinking that they can always play with the safety off.
Winning like this can breed a sense of invincibility, but it is all about fine margins at this stage of the season and Southampton, needing points to avoid relegation, will be just as determined to win as Liverpool when they meet at St Mary's on Friday. Then Chelsea visit Anfield in April chasing a top-four finish; they have history when it comes to derailing Liverpool's title push, with 2014's slip and Demba Ba's goal still seared into Liverpool minds.
Cardiff away will be a tough fixture, as will the trip to Rafael Benitez's Newcastle. Huddersfield (already relegated) should be brushed aside when they head to Anfield, but Wolves at home on the final day will be a fraught 90 minutes if the title race goes down to the wire. But Liverpool have never had it easy this season as they, in Klopp's words, fight the "best team in the world" for the Premier League.
Maybe they need the madness that comes with playing on a knife-edge. Whatever the reality, if they win the Premier League like this, it will be unforgettable.