MANCHESTER, England — For the second time in a week, Liverpool drew a massive game 0-0 and they probably don't know how to feel about it.
In theory they should probably be relatively pleased with stalemates against first Bayern Munich and now Manchester United. But it's impossible to think of this point as anything other than an enormous missed opportunity against a United side who were forced into all three of their substitutions by the 43rd minute.
Is it possible for a team to win, lose and draw the same game? It felt a little like that here. Liverpool went back to the top of the Premier League after their 0-0 draw against Manchester United, but only by a point and at the same time added weight to the argument that, in the full glare of a title race, they don't have the gumption, the coolness, the experience. We won't know whether that's true until mid-May, but this past month or so hasn't been great.
"Both," said Jurgen Klopp afterwards, when asked if this was a point gained or two dropped, before shifting into his usual upbeat mode and regarding a half-full glass. "We take the point — it's one more than a lot of people probably expected."
"Liverpool, top of the league!" sang their fans, potentially just stating the facts, potentially out of optimism, potentially because many of them have faced bigger disappointments than not quite managing to go three points clear over the last 29 years.
But barring a couple of red cards or being donated an own goal, this was about the most favourable set of circumstances Liverpool could have been presented with at Old Trafford. With Juan Mata, Ander Herrera and Jesse Lingard all having to be withdrawn in the first half, and an ankle injury to Marcus Rashford meant United were playing, in the words of Ole Gunnar Solskjaer, with "10-and-a-half men."
It wasn't just that Liverpool couldn't break through: United defended very well, and we always hear how tough it is to play against sides who dig in when under pressure. It was more that they didn't even come close to breaking through. That they didn't know how to. Or, worse, didn't want to.
What do you make of a side who, with opponents forced by circumstances into something close to a retreat, only manage one shot on target in the whole game? That on shot coming in the 33rd minute.
Liverpool seemed curiously tentative from the very start, their passing off, their touch uncertain, their shooting nonexistent. They had plenty of the ball – 65 percent by the end — but barely created a chance. It was United who went closer to winning, despite spending the second half in a setup most aptly illustrated by Romelu Lukaku being turned into a patrolling, workhorse right winger: for an afternoon, the Belgian Dirk Kuyt.
Klopp wasn't happy. At the best of times the Liverpool manager is a pretty expressive man: you suspect he would be a frantic ball of energy if he was passing someone's window and saw them playing FIFA, never mind in a fixture as colossal as this.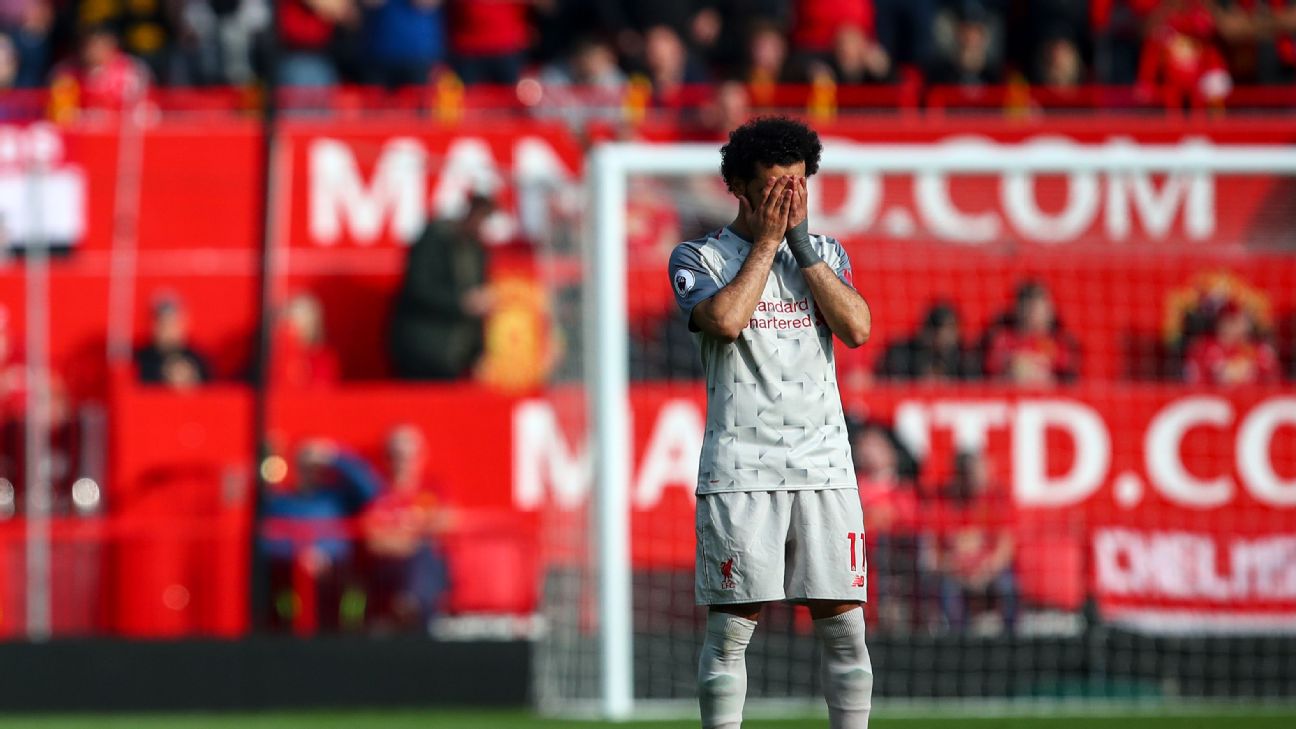 It thus takes something fairly remarkable for him to stand out as extra-active on the touchline, but he did here, particularly at some stages of the first half, so unhappy was he with some of Liverpool's passing and decision-making. Georginio Wijnaldum and Sadio Mane received the two most notable rollickings, but there were plenty more. At one point he simply clasped his hands to his head, in the manner of an amateur actor asked to express shock and horror. "Animated," he said with a grin, when asked if he was angry or merely frustrated on the touchline.
Klopp claimed that United's rush of injuries in the first half might even have been more disruptive to Liverpool. "It cost us rhythm," he said. "I'm not saying it should have, but there it is. If United played the same team as they did in the last couple of weeks then it's a different game. We know what they do, we know where they pass. But it was completely different and it was obviously not good for us."
The Liverpool manager also suggested that, while they were forced into playing that way, it was part of a wider switch in how teams are facing Liverpool: they have now drawn four of their last five, mostly against sides that have set up to stop them from playing rather than to play themselves. "If a top team plays really defensive, it's not nice to play against," he said. "Something changed — everybody adapted to it, and we have to make sure we adapt as well."
So where does this leave Liverpool for the rest of the season? Ultimately if they lose the title by a couple of points, it won't be this result that will cost them. It will be points dropped in more theoretically straightforward encounters, such as against Watford on Wednesday, or Burnley in a few weeks.
But the pressure is growing. "From my point of view it's very positive pressure," Klopp said. "But I don't have to play. I just sit here and say dumb things. That's easy. We have to learn in these situations. We have to make sure we use this situation as good as possible."