It is now all so simple for Chelsea and Maurizio Sarri. Victories against Watford and Leicester over the final two weekends of the Premier League season will ensure that Stamford Bridge stages Champions League football again next season.
Forget about the safety net of a potential Europa League final in Baku — six points from two games and Chelsea will be over the line and back where Roman Abramovich expects them to be: among the elite clubs of Europe.
It would mean that Sarri's first season in charge is a success. Relative success, of course, because Chelsea have been nowhere near challenging for the title, but success all the same for a coach who has also seen his team come within a penalty shoot-out of beating Manchester City to win the Carabao Cup. Yet even if Chelsea finish in the top four and win the Europa League, it might not be enough to keep Sarri in a job after a turbulent campaign.
Marina Granovskaia, who runs Chelsea on a day-to-day basis, remains Sarri's biggest advocate and that is big tick in the former Napoli coach's favour.
But once the dust settles on Chelsea's season, the questions and doubts over Sarri will remain and Granovskaia will have to convince Abramovich that the 60-year-old is the man to take the club forward and through a difficult transitional period, which could yet involve a 12-month worldwide transfer ban.
Being back in the Champions League will clearly help Chelsea through their rebuilding programme (if they are actually allowed to sign players), but this season has thrown up more questions than answers about their progress and development under Sarri. And if Chelsea do seal a top-four finish, it could be argued that it would largely be a result of the failings of Arsenal and Manchester United rather than the success of Sarri's methods.
Harsh? Perhaps, but Chelsea have opened up a two-point cushion between themselves and fifth-placed Arsenal despite claiming two points from a possible nine in their last three Premier League games.
They conceded 10 goals without scoring in successive away games against Bournemouth and City earlier this year and it was only Sunday's 1-1 draw at United which spared Sarri's team the ignominy of becoming the first Chelsea side to lose away to all big six rivals in a season since Abramovich bought the club in 2003.
At one stage in February, after the 6-0 defeat at City and FA Cup exit at home to United, it appeared that Sarri was heading for the exit door – a prospect which appeared inevitable after goalkeeper Kepa Arrizabalaga defied his planned substitution in the Carabao Cup final by ignoring Sarri's instruction to leave the pitch for Willy Caballero. Sarri rode the storm, however, and, to his credit, has been able to restore some kind of order and stability in recent weeks, but the doubts over his suitability for Chelsea remain.
There are many reasons to question Sarri's ability to deliver genuine success to Chelsea. Firstly, his recruitment has been poor. The two players he pushed Chelsea to sign – Jorginho and Gonzalo Higuain – have struggled to make any kind of positive impact, with neither able to replicate the form they displayed under Sarri with Napoli.
Tactically, Sarri has also been exposed. The supporters have vocally criticised his so-called "Sarri-ball" approach and his rigid refusal to change has left some players frustrated.
There is an argument to suggest that Sarri has not had the players to make his tactics work, but with Jorginho and Higuain proving so underwhelming, the Chelsea board may take some convincing to back the manager if he wants more of the same this summer.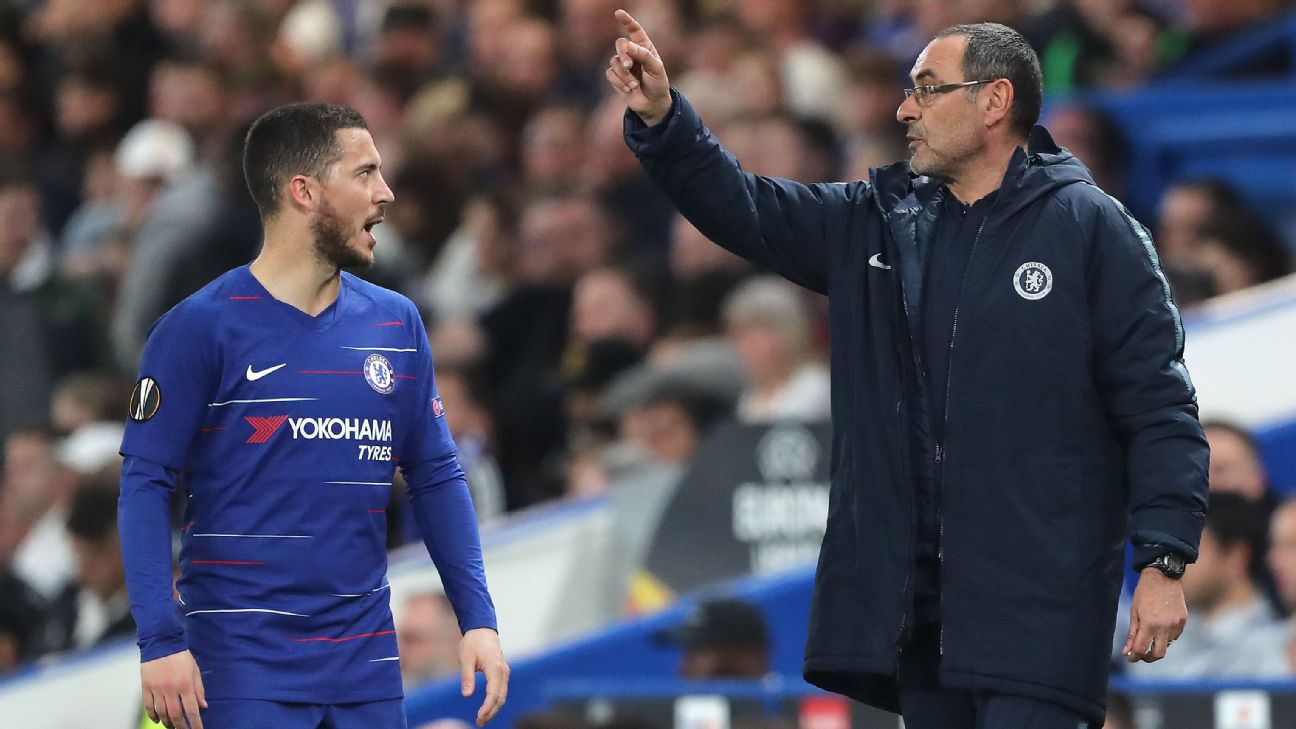 Sarri's stubbornness over Chelsea's home-grown players, most notably Callum Hudson-Odoi and Ruben Loftus-Cheek, has also brought him into conflict with the fans and it does not bode well if the squad cannot be improved during the transfer window.
And with Eden Hazard entering the final year of his contract and likely to push for a move to Real Madrid, Chelsea will be losing their best player, the one who has done more than any other to keep them alive in the race for the top four. Can they afford to go into next season with a coach who has so far offered little sign of having a coherent plan to move the team forward?
In the past, Abramovich has been ruthless with his managers and sacked some for achieving far more than Sarri. But the Russian has been less visible at Chelsea this season after his investor visa expired and his long-term intentions are unclear, so Sarri might be handed the chance to stay on beyond the summer.
It is by no means guaranteed, however, and Chelsea may yet decide that change is needed, even if they find themselves back in the Champions League.