There have been some high profile exits already, but Nick Miller previews the top FA Cup storylines to watch for ahead of the fifth round fixtures…
Chelsea vs. Manchester United means a lot for both bosses
What the FA Cup actually means to Chelsea and Manchester United (live on ESPN+ on Monday, Feb.18 at 2.30 p.m. ET) is a question that has been asked and discussed and worried about for a quarter of a century. At least one of them has made the final over the last three years, but that probably says more about the disproportionate strength of the Premier League's elite six rather than their priorities.
But this game comes at a time when its importance extends beyond merely this tournament, with both sides arriving at Stamford Bridge on Monday night in some state of flux, to the point that it probably matters more to the respective managers than it does to the team as a whole. United have just suffered their first defeat of the feel-good Ole Gunnar Solskjaer era, flexed aside by PSG, while according to various reports Maurizio Sarri has about a month to save his job.
Will victory in this FA Cup fifth-round game decide whether both managers keep their jobs in the long term? Almost certainly not. Very rarely will a single game have that much weight placed on it. But the game represents a chance for both to at least begin a form of recovery — in Sarri's case from a prolonged funk, for Solskjaer to stop a nascent one.
Premier League minnows have a real chance
As ever, team sheets will be virtually impossible to predict for the top-flight sides in this weekend's FA Cup ties. The all-powerful lure of Premier League points is inevitably the priority for most, even if ultimately the only unknown is where in the 8th-12th place range a team will finish. You can often make a sensible case for ignoring cup competitions, but frankly if Javi Gracia, Chris Hughton, Nuno Espirito Santo and Roy Hodgson don't pick the absolute strongest side they possibly can then it amounts to abandoning their managerial duty.
With Tottenham, Arsenal and Liverpool all out, and one of Chelsea or Manchester United to follow, there is a clear path for the other remaining Premier League sides through to at the very least the semifinal, and depending on the draw possibly the final too. This is an open FA Cup, a chance for four teams who between them have one final appearance in the Premier League era and last won a major trophy in 1980, to win something.
It's understandable that the money and status of the Premier League is a priority for clubs, but not for the fans. For them, achievement means trophies, and if not trophies then memories, great moments they'll keep with them forever. In 25 years those fans won't remember another solid league finish and a healthy balance sheet. They will remember getting to a final. The clubs owe it to them to do their absolute utmost.
…but the cup is a distraction for Derby
For other teams, giving the FA Cup a swerve is more excusable. Derby County, for example: even though they have beaten Premier League opposition in two cup competitions this season, achieving something tangible in this one is more of a tall order. Not unrealistic, but less likely. Their focus must instead be on the bigger priority of winning promotion. They're currently on the edge of the Championship playoff spots, playing good football but with a squad that is intolerably thin in some areas, mainly central defence.
More games in the FA Cup, starting with Saturday's against Brighton (live on ESPN+ at 7.30 a.m. ET) can only imperil Frank Lampard's chances of leading them to the top flight, increasing their workload and making what is already a frantic schedule even more unmanageable. No team will turn down a win in any competition; a defeat would probably be the best result from a pragmatic point of view; under absolutely no circumstances should they draw.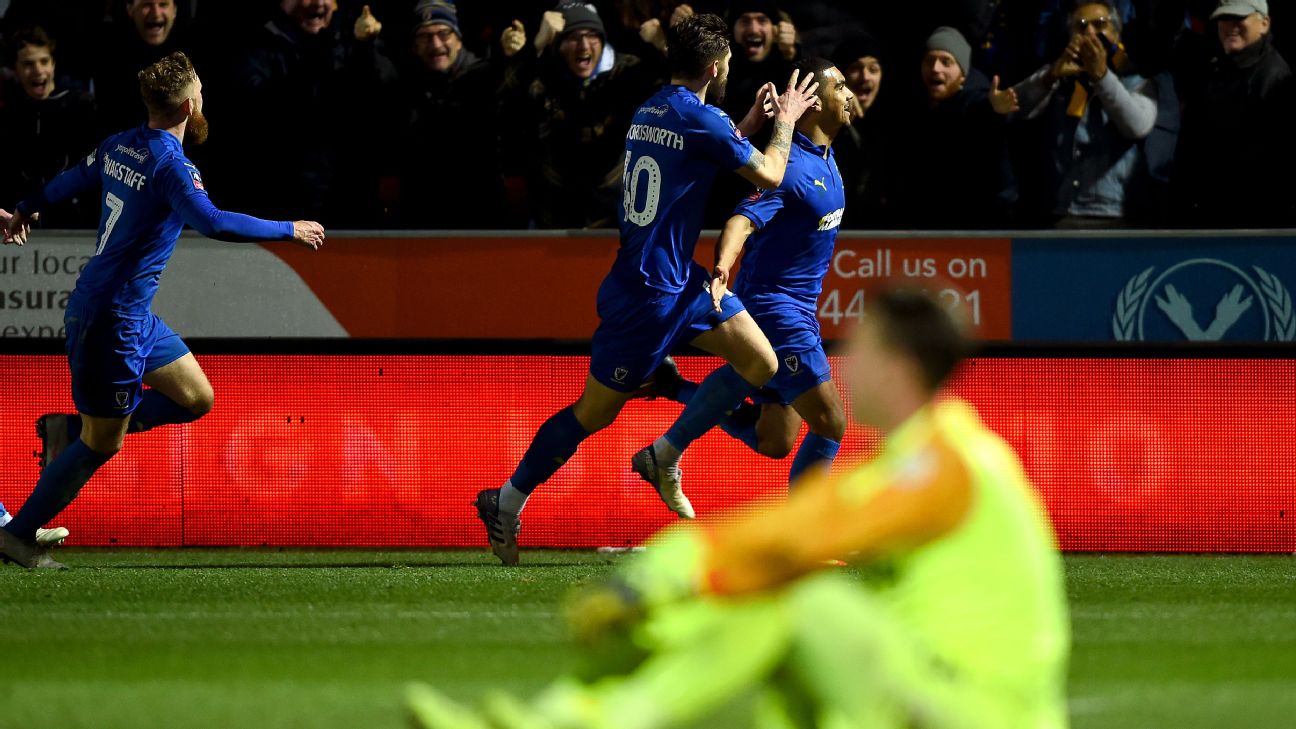 Will Wimbledon beating Millwall be the biggest upset?
Newport manager Michael Flynn was probably right when he suggested that his side defeating Manchester City (live on ESPN+, Saturday, Feb. 16, 12.30 p.m. ET) would be the biggest shock in the history of the FA Cup. But odd as it might seem, Wimbledon getting past Millwall (live on ESPN+, Saturday, Feb. 16, 10 a.m. ET) — only one division above them — won't be too far behind.
The Dons did beat West Ham in the last round, so they at least have form for upsets this season, but recent evidence perhaps gives a more realistic impression of their chances. They're bottom of League One, their 1-0 win at Walsall on Tuesday was their first league victory since Christmas, they're seven points adrift of safety and after the recent defeat to Burton Albion manager Wally Downes described their efforts as "unacceptable."
The reason people still cling to the specialness of the FA Cup is that it doesn't make sense. If Wimbledon win, it will probably be the most illogical result of the weekend.
Will the FA Cup provide relief for Steve McClaren?
Steve McClaren has enjoyed a pretty confusing career. The highs have been pretty high — winning Middlesbrough's first ever trophy, Twente's first ever Eredivisie title — the lows have been pretty low — England, Wolfsburg, Twente Pt.II — and there's been an awful lot in the middle of plodding mediocrity. Now at QPR, he has firmly fallen into the latter camp. The season started badly, opening with four-straight defeats, but from September to the end of the year results picked up and there was a vague chance of nicking a place in the playoffs. However, they're yet to win a league game in 2019 and go into the tie against Watford (live on ESPN+ on Friday, 2.45 p.m. ET) on the back of five straight defeats.
So how do you define McClaren? A good manager who has lost his way? A bad manager who caught lightning in a bottle a couple of times? Is it more incongruous that a former England manager is currently 18th in the Championship, or that McClaren was ever England manager at all? A run in the FA Cup might not solve the riddle, but it will be a reminder that somewhere there still lurks a man capable of inspiring a team.