Real Madrid midfielder Luka Modric has ended the Cristiano Ronaldo-Lionel Messi stranglehold on the Ballon d'Or.
Modric, who led Real to their third consecutive Champions League and reached the World Cup final with Croatia this summer, capped off a memorable 2018 by winning European football's oldest individual prize in a ceremony on Monday.
"As a kid we all have dreams. My dream was to play for a big club and win important trophies," said Modric, who received the award from presenter and former France forward David Ginola during a ceremony at the Grand Palais in Paris. "The Ballon d'Or was more than just a dream for me and it is really an honour and a privilege to hold this trophy."
Modric, 33, finished ahead of 2017 winner Ronaldo of Juventus and Atletico Madrid forward Antoine Griezmann for the prize, leaving Messi, who was fifth, outside the top three for the first time since 2006. Paris Saint-Germain forward Kylian Mbappe finished fourth to round out the top five. Brazil star Neymar, who helped PSG to a domestic Treble last season, finished a distant 12th.
Modric was fifth in Ballon d'Or polling last year.
"2018 is a dream year for me," Modric said. "Throughout my career, I realised hard work, persistence and belief in yourself in difficult moments are the foundations of success."
The former Tottenham Hotspur player is the first Croatian player to ever win the award.
Last summer saw Modric heavily linked with a move to Inter Milan, amid reports that he felt his exploits with club and country merited a pay rise. Speaking in the mixed zone after the ceremony, he suggested that he would still be open to extending a current Madrid deal which ends in June 2020 so as to finish his career at the Bernabeu.
"I've two years left on my [Madrid] contract, and hopefully some more than that," Modric said. "They've been really good to me and I would like to retire at Madrid."
No player other than Ronaldo and Messi had claimed a Ballon d'Or since 2008, with both players winning five apiece over the past decade.
In September, Modric claimed FIFA's The Best award, also given to the world's top player, a prize which Messi and Ronaldo had not lost since 2008.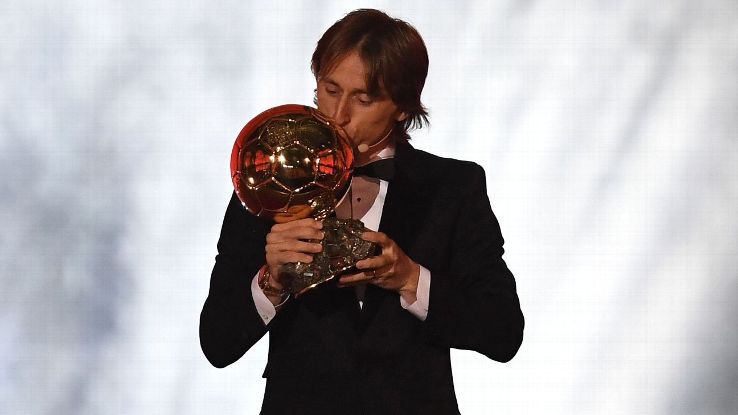 At the ceremony in Paris, Madrid president Florentino Perez would not be drawn on whether Ronaldo leaving Madrid last summer had hurt his chances of retaining the Ballon d'Or this year, while suggesting that Modric's attractive personality on and off the pitch had helped him clinch the prize.
"[Modric] has had an outstanding year in which he has claimed all of the awards going and nobody can question whether he's the best," Perez said. "It's a pleasure to watch him out on the pitch and the way he controls the ball, passes it and shoots. He's got a gift of causing a good impression on everyone he meets and being able to make sport a place where people come together, not one of conflict. He's leaving his mark on an era and he's winning it all with us. It's a source of satisfaction that he plays for this club."
Other honourees on the night included Mbappe, who took home the first-ever Raymond Kopa Trophy given to the top under-21 player. The 19-year-old became the second-youngest to ever score in a World Cup final as he helped France to their second title this summer. United States and Borussia Dortmund midfielder Christian Pulisic finished second.
🇭🇷 Luka Modric is the first Croatian player who wins the Ballon d'Or! #ballondor pic.twitter.com/9I99HJuuyf

— #ballondor (@francefootball) December 3, 2018
With the result widely known even before the ceremony, World Cup 2018 winner Griezmann said on his way into the building: "It's a pity that a Frenchman didn't win. Maybe the European Cup is more important than the World Cup. But we'll see."
On his way out the Atletico Madrid attacker was asked what he had to do to win it. "Good question," he replied, before adding: "I congratulate Modric as the Ballon d'Or. He had a great year. I am very happy with my own year, have achieved all my objectives this year. I'd like to have the Ballon d'Or, of course. Next year perhaps."
Lyon's Ada Hegerberg became the first recipient of the Women's Ballon d'Or award. Hegerberg is a three-time Women's Champions League winner with the French side and scored a tournament-record 15 times last season.
France Football, which hands out the Ballon d'Or, and FIFA combined their awards to create the FIFA Ballon d'Or in 2010. The two parted ways in 2016 and have given out separate awards since.
Ballon d'Or top 10 finishers:
1) Luka Modric (Croatia / Real Madrid)
2) Cristiano Ronaldo (Portugal / Juventus)
3) Antoine Griezmann (France / Atletico Madrid)
4) Kylian Mbappe (France / PSG)
5) Lionel Messi (Argentina / Barcelona)
6) Mohamed Salah (Egypt / Liverpool)
7) Raphael Varane (France / Real Madrid)
8) Eden Hazard (Belgium / Chelsea)
9) Kevin De Bruyne (Belgium / Manchester City)
10) Harry Kane (England / Tottenham)