Goals define strikers. The type of goal, the moments in which they are scored, what they signify. In which case I wonder whether Alvaro Morata has noticed that three of his most important goals came for Juventus and Chelsea against the two biggest clubs from Spain's capital?
A year after Real Madrid put Atletico through the greatest misery in their history, equalising in the Lisbon Champions League final with seconds left and then winning 4-1 in extra time, Morata, wearing the black and white of La Vecchia Signora, scored in each leg of the following season's semifinal to deny Madrid reaching the only European final they've not won since 2013.
How Colchoneros fans must have silently prayed thanks to the striker with the Atleti-loving grandfather. It wasn't quite revenge, but the painful prospect of their enemies lifting the European Cup again had been removed.
Atleti, Morata's current club, is actually the rival he's faced most often across his career. He's only scored against them once but again, that moment was probably hugely influential on what's happening to him now.
Chelsea, starring Morata, who had won his second Champions League with Real Madrid just three months earlier in Cardiff, came visiting the Wanda Metropolitano in September 2017. Antonio Conte's side won in stirring, robust style and it was Morata, with a header from Eden Hazard's cross, who put the Blues back into the match and thus built the platform for their dramatic 90th minute away win.
Those semifinal goals for Juve against Madrid undoubtedly helped Diego Simeone and Mono Burgos sell themselves, then their employers and (perhaps) the fanatically loyal fans, too, on the idea that a former Madrid man might actually be accepted at Atleti. The thinking probably went like this: "If he's helped knock Los Blancos out, scoring against them twice in the semifinals of Madrid's most cherished competition, then maybe we can forget his past with them."
As far as Morata's goal for Chelsea when ruining Atleti's first European night at their beautiful new stadium, it told many tales. And Simeone was attentive.
Across his unfortunate time at Stamford Bridge Morata, an instinctive, intuitive and non-traditional centre-forward, built his best on-pitch understanding and enjoyed himself most with Hazard. I'd guess the Belgian ended up frustrated at the percentage of chances Morata actually converted, but the pair had an innate understanding of timing, use of space and, crucially, wit.
That night when Chelsea won 2-1, Morata gave Diego Godin, Lucas Hernandez and Jan Oblak a serious examination. Testing them for pace, in the air and for speed of thought and technique, the delightful header he eventually scored left the subsequent World Cup winner, Lucas, looking flat-footed. Morata's subtle glance of the ball past Oblak was divine.
As disgusted as Simeone and Burgos were to lose in added time, their notes (both video and mental) told them that Morata was as disruptive and dangerous as a young Diego Costa… just without the Raging Bull temperament. But let's go back for a second to why these goals were so important to Morata.
Anyone who believed, or still thinks, that Morata isn't potentially a world-class striker simply because things looked tepid at Chelsea, frankly hasn't paid proper attention to this guy and his repertoire. Without making this a political message on behalf of the Vote Morata campaign, there are two inalienable facts to take into account when you retrospectively analyse what Picasso might call Morata's "Blue Period."
Firstly he was struck with one of the most terrifying injuries any athlete can suffer. Not long after that bravura performance at the Metropolitano, Morata's back "went" He'd suffer seizures that meant he was not only feeling sharp, paralysing pain but that he couldn't move, certainly not like a high-class athlete in his mid-20s should be able. Chelsea put him through the A-Z of scans, diagnoses, treatments and painkillers. Often he'd fly to Germany for specialist treatment and then fly back to Cobham for training the next day.
Then, on Dec. 8 2017, Morata and his partner Alice, discovered that they were going to be parents. Chelsea were playing West Ham away the next day and despite being in crippling pain, he took the understandable but daft decision to play in the hope of scoring and dedicating that goal to what would turn out to be their twins, Alessandro and Leonardo.
What happened? No goal, more pain. Situation worsened.
More than once he played when it was a terrible decision to do so. Often, he'd need one or indeed two pain killing injections when he returned home from training or playing. Gradually, he missed chances, fans, fellow players and staff lost confidence in him and his own confidence was in tatters.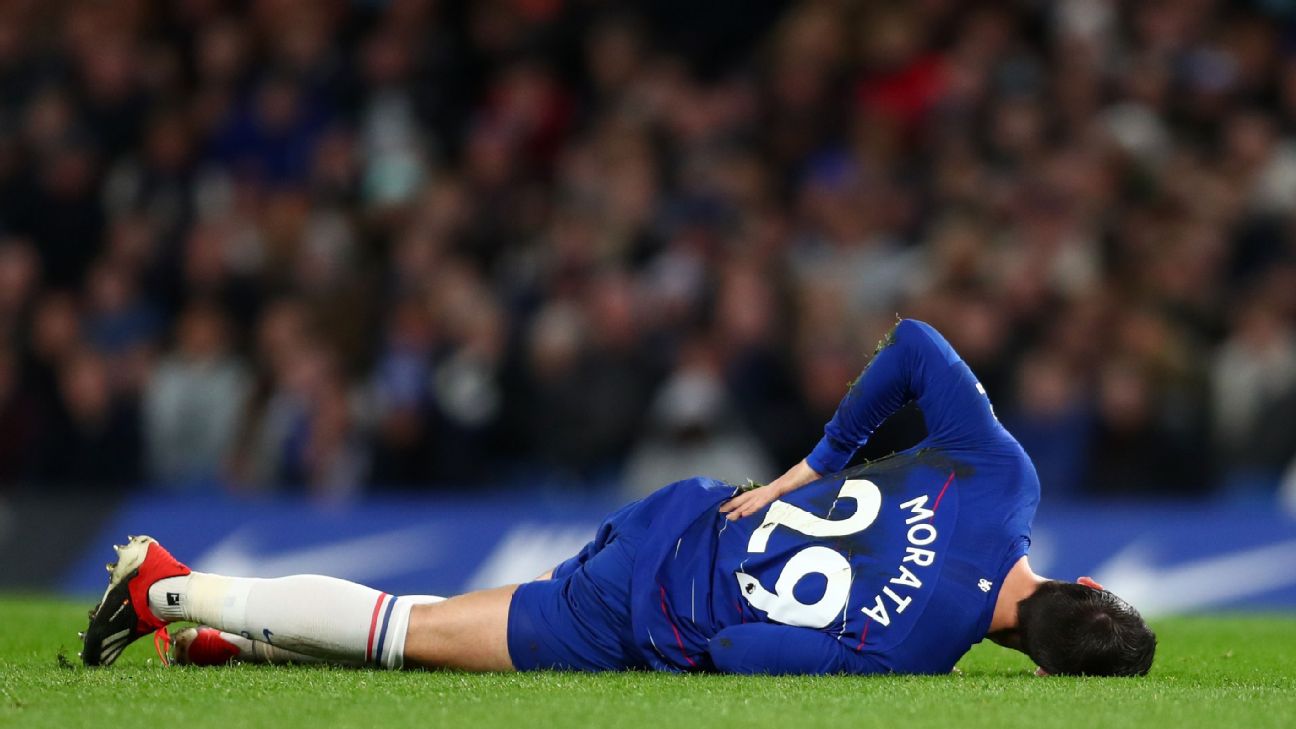 Already subject to some depressive episodes at Juve — when, ironically, he sought the advice of Gigi Buffon who'd long afterwards admit that he too had been paralysed with doubt and dark thoughts at the same age as Morata was at the time — the Spaniard sunk into a spiral, both personal and sporting. This is a guy who used to believe that Sergio Ramos shaving his head for him was what unlocked a run of goalscoring. Someone who was influenced by superstitions: numbers, colours, you name it. So when he first felt unhappy helpless and short of any personal confidence it took him time to believe that psychological help was the route out of hell.
Indeed, at Juve, Buffon told him that it was best to lock yourself away in a room and cry on your own because, in football, any admission that you might need help is 'interpreted as a sign of weakness." But, with the help of his partners, Morata spent time with a sports psychologist and came to understand that his perpetual rage against opponents, people at Chelsea, referees, fans and media wasn't the way for him to deal with the rage he was feeling at his body for betraying him. Gradually, he healed both spiritually and physically.
Back to today. When I talked about the importance of those key goals for Chelsea and Juve, which helped his coaches at Atleti believe that the real Morata could step forward if he moved to the Metropolitano, what I meant was that he's in the right place. Not just personally, but he's part of a team that will work for him. He's part of the spearhead of an Atleti unit that runs, tackles, presses and re-organises so that the strikers can have time and space to score.
He's part of a squad where he's friendly (and football-confident) with Koke: after all, they won the European U21 Championship together. He's part of a squad where one of the few players who resembles Hazard's skill set, Antoine Griezmann, will be equally adept at both serving Morata with goal chances and profiting from the unselfish work the Spaniard is always willing to put in for his strike partner.
Beyond that, Morata's part of a club where his coaches, Simeone and Burgos, are actually very good teachers. The brooding, menacing and threatening pair you see on the touchlines of matches are, in fact, shrewd, articulate and thoughtful professors of the game when it comes to how to educate and how to counsel players who have and appetite to improve.
So far, Morata looks lithe, happy, daring and fit, and he's scoring goals. Long may that continue. This is a guy who, when he's cheerful, confident, fit and feeling trusted, is not only wonderful, impish company but who, I promise you, is capable of great things. So, will the real Alvaro Morata now please step forward… and keep on going forwards.